[xyz-ihs snippet="Blog-Header"]
Compression pants were initially used to increase blood circulation for patients who have either arthritis or diabetes. However, nowadays, compression pants have been revolutionized for athletic purposes. 
Compression pants give you a snug fit. It prevents the oscillation of muscles while doing intense activities like running and also helps to increase the blood flow.
You will experience controlled movement and less vibration of muscles during the workout in compression pants. It is believed that compression pants increase performance and endurance levels while exercising or playing a sport. 
It also accelerates weight loss caused by intense sweating. Compression pants are available for both men and women.
Best Plus-size Compression Running Pants Reviews
Let's check the best plus-size compression running pants on the market today.
TSLA Men's Plus-size Compression Pants for Running Review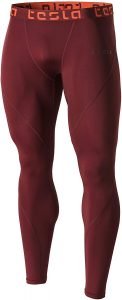 TSLA is sports equipment manufactured, and they are one of the best in the sports gear category. The Compression running pants from TSLA lives up to the standard of being the best. 
It boasts of R&D in engineering fit as per body geometry. The fit ensures maximum mobility. It feels like a 2nd skin due to its comfort compression.
The material used is 87% polyester and 13% spandex. The compression pants have higher sweat absorption properties. It wicks moisture and dries quickly. 
Even during an intensive workout session or running, you won't feel sweaty and sticky. On the side, it has mesh for better ventilation. The seams are of flat-lock patterns and give you a seamless feel.
The fabric is non-abrasive and smooth. It has got excellent durability and flexibility. You will be surprised by the color options. You have it in both dark as well light vibrant colors. 
The compression pants are available in 1XL, and 2XL so can easily and comfortably fit plus size person. The overall look of the compression pant is dynamic.
DRSKIN Plus-size Compression Pants for Men Review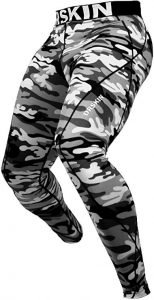 The stylish looking DRSKIN compression pants are available in 1XL, 2XL, and 3XL sizes. The material used is 92% polyester and 8% spandex. 
The result of such a combination is the smooth, soft, and shiny exterior. It is surprisingly lightweight. It is designed for all-weather wear and any sports like running, weight training, American football, and others.
It has a unique two-way air circulation property. During summers, it is cool, and during winters, it can retain heat within. The fabric has the moisture-wick technology that keeps sweat at bay, and you feel fresh and dry. 
It also has mesh fabrication on the sides and back of the calf muscle. The mesh enhances ventilation and breathability.
DRSKIN offers high durability and flexibility. It comes with a silicon logo waistband. The fabric can be quickly air-dried. It is convenient to wash and maintain. The fit is super snug and comfortable. 
The look is super cool and fit. It is a must-have for plus-size people. They will look lean, and while working out in compression pants, you will lose weight faster as well. Hence you can get the dual benefit.
[xyz-ihs snippet="Blog-Middle"]
Homma Premium Tummy Compression Pants for Plus-size Women Review

For plus-size women, Homma's tummy compression pants are the best choice for running. The premium pants are a combination of 88% nylon and 12% spandex. It gives you breathable fabric. It keeps you sweat-free with its moisture-wick technology.
The material dries faster and keeps you cool and comfortable. The waistband is a high rise style giving you maximum compression on the tummy. It offers excellent body contouring. 
The waistband is board, and thick hence doesn't roll down. The premium compression pants are seamless, so no more ugly lines running down the legs.
The fabric is soft and keeps you chafe-free. The fit of the pant is super tight yet gives you a four-way stretch. The seamless knit of fabric, and four-way stretch gives you a greater range of movement. 
You can pull, stretch, and roll; the pant offers maximum coverage and gets back to its original shape. No loss of form even after regular usage.
You can wash it easily. It doesn't lose its color or shape after numerous washes. It comes in 1XL size. The compression pant is ideal for running, weight training, yoga, or any intense workout sessions. The fit is body tight, but it gives you a snug fit.
Conclusion
You can lose weight in style and look cool while running. Compression pants not only gives you benefits of improved blood circulation but also helps you in faster movement. 
The men's compression pants, both TSLA and DRSKIN, are made of polyester and spandex.
The fabric controls moisture and keeps you dry and fresh. The tight fit makes you feel agile and improves your flexibility. 
The size and color options are numerous to choose from as per your need and taste. The fabric also protects you from harmful sun rays.
The premium compression pants for women from Homma is made of nylon and spandex. It gives excellent tummy compression and is skin-friendly. All three compression pants are of ankle length. 
The fabric is durable, light in weight, and retains its fit throughout regular usage. A great pair of compression pants should be a part of your fitness gear. You can also check our Best Plus-size Running Gear Reviews.
[xyz-ihs snippet="Blog-Footer"]