Running is one of the best ways of exercising. Most people these days have started including early morning or late night runs in their daily schedule. It is a great way of keeping you fit and healthy.
Although it is as helpful as it is fun, it's all of no use if you do not feel at your best while performing such runs. If you want to have a fruitful and healthy running experience, it is important to have comfy running pants.
With all the variety of options available on the market, finding the right size and quality pants can get difficult. It is even harder for people who wear plus-size pants. They either do not get their fit or the design and style that they want.
If you face such issues, look no further. In this article, I will be listing a few of the best plus-size running pants you could find. I hope they help you enhance your exercising experience. Let's begin!
Best Plus Size Running Pants Reviews
Let's check the best plus size running pants on the market today. 
Jabroct High Waisted Leggings Review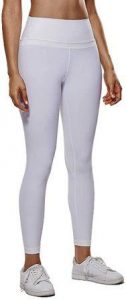 High-waisted pants are more in trend currently. They stay put and provide more comfort, especially while you run or jog. The Jabroct high-waisted leggings are made of high-quality polyester and are fit for all weathers.
It is breathable and light. The fabric also feels soft and cozy on your skin. As far as the fit is concerned, the material is fully elastic. It sticks to your body perfectly, ensuring you do not feel uncomfortable.
The leggings have a great tummy control feature and a gorgeous streamlined silhouette. They give your body good shape and structure.
 Its design itself is classy and outgoing.
You could wear did for your daily jogs/gym or other tasks such as grocery shopping. There are also many color choices available, ranging from light shades like white to dark and brighter ones such as red. You could settle for any that you like.
Even the sizes available begin from small and go up to XX-large. The size chart provided helps in choosing your appropriate size more efficiently.
Most, often people assume that such an excellent pair of pants would be expensive or way out of their budget. But, the Jabroct high-waisted leggings come just under $10. It's like getting what you wanted and that too at an affordable rate.
Just My Size Active-stretch Capri Review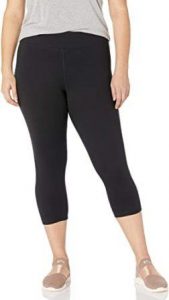 The Active Stretch Capri pants are made of polyester and spandex. They have an excellent fit and a drawstring closure. They look super stylish and can easily highlight your body shape.
Some people usually get self-conscious if the material is super thin and see-through, but that is no longer an issue with the Just My Size pants. The fabric is of rich quality and has a thick enough texture.
It doesn't wear out easily, nor does it make you feel sweaty. These Capri pants wick moisture away and are fit for extreme climates. The 20-inches inseam and the center back seam make the pants much more durable and comfortable.
Even the waistband is wide and has great elasticity. It is fit for machine wash, and the feel of the fabric doesn't fade away even after multiple washes. There are quite a few sizes available as well, starting from 1X to 5X.
You could select your regular waist size, and the Capri will fit you perfectly. These pants are wide and very comfy so that you won't face issues with them.
It comes in a rich black look and goes with tops such as jerseys, sweatshirts, tank tops, etc. Even the money factor is not an issue here. The pants are quite reasonably and decently priced.
Special Magic Capri Sweatpants Review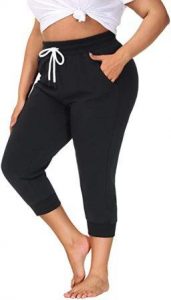 We all love a slim-fitting yet breathable pair of sweatpants. They help you feel cozy and free as you perform your daily tasks. The Special magic Sweatpants are the ones you must buy.
They are made of cotton and spandex, ensuring that your body feels cool and dry throughout the day. Its waistband is wide and has great elasticity. The pants even have a drawstring closure for a more secure fit.
You can wear these for jogging, running, exercising, yoga, and other activities. They look stunning with sweatshirts, hoodies or any other tops you prefer. They are designed in a manner to provide you with the best comfort.
You even get two sides pockets to keep your phone, keys or wallet as you continue with your tasks. Overall the sweatpants are truly amazing. If you prefer a more loose and comfy pair, I suggest you opt for a bigger size than your regular size.
On the other hand, if you prefer slim-fitted sweatpants, you could opt for your original size. There are also various color and pattern options available. They vary from simple pastel shades to leopard and camouflage designs.
You can claim these as yours for under $25. The price may vary based on the size you choose. Overall based on the quality of the product, the price is excellent.
Yohoyoha Yoga Pants Review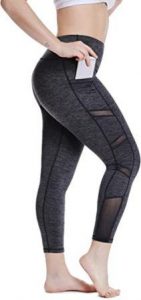 If you are self-conscious of how your tummy looks in any pair of leggings or pants, then the Yohoyoha Yoga pants are perfect for you. They have an elastic closure and provide a secure fit.
They are made of spandex and polyester. The high-waisted waistband is great for tummy control, ensuring that you do not feel any discomfort. It also has a mesh design that helps you keep cool, especially during extreme workouts.
It is also equipped with a hip lifting design that contours the body curves and makes you look stunning.  These pants are suitable for exercising and other leisure tasks as well.
The high-tech fabric used provides you the best of comfort. Unlike the standard pants you find on the market, these don't fade away easily. They are also non-see-through and anti-pilling resistant.
You get them for around $16 – $21, based on the size you select. The sizes begin from XL and go up to 4XL.  You could use the size chart provided for better and accurate measurements.
They come in three bold colors, i.e., grey, black and black2. You could choose the one that suits you and your personality the best. They even have two side pockets that make it convenient for you to keep your basic items in them while you work out.
Dibaolong Yoga Pants Review

The Dibaolong Yoga pants are made of super stretchable and breathable materials. Unlike most slim-fit designs, these pants have a straight leg design which helps in free and comfy movement.
The feel of the fabric is super soft and cozy, ensuring that you have the best running/jogging experience.  It is even good in moisture management. You wouldn't feel hot or skin irritation with these pants.
You can use them all year round, and they won't disappoint you. The durability level, too, is higher than ordinary yoga pants. They are ultra-lightweight and ideal for sporting.
You could wear them as you exercise or even as you go to bed. These pants are super comfortable and great for lounging. The wide elastic waistband provides a better fit around your waist.
It even has a lace drawstring that lets you adjust the fitting at your convenience. These pants are designed to give a slim-fit illusion and great comfort to the ones who use them.
You also get a wide variety of colors, patterns and designs. They range from basic light and dark colors to funky designs and cool patterns. You can choose any that matches your liking and requirements.
Even the variety of sizes you get are amazing, starting from X-small to 4X –large.
Conclusion
It is important for you to feel at your best no matter what to do. Whether you are running, going grocery shopping, or attending a meeting, it's all of no use if you do not feel like yourself. You can also check our article on the How To Start Running At 50 And Overweight.
The pants mentioned above are a few of the best quality running pants on the market. If you do like any of them, give it a shot, and you won't have any regrets. It's high time you do something for yourself.
Good luck:)