[xyz-ihs snippet="Blog-Header"]
Walkers come in all shapes and sizes. Right from a sleek walker to well-built weightlifters and athletes, everyone is looking at losing that extra pound to stay fit. Walking adds the pressure equivalent to an average of 3 times your body weight on your ligaments and joints. While searching for walking shoes for overweight men we came up with 6 great stylish shoe choices while keeping shoe integrity for strength and support at the fore front.
Maintaining a good form while walking is one part of it, however having a good pair of sneakers is vital, especially for a plus-size walker. 
Your shoe must have proper support and excellent shock absorption. If your BMI is over 27, then you are a heavy walker. While shopping, you can use this as a point of reference. 
Your walking shoes can have different demands, depending on your weight and foot type. There are various types of shoes, styles, and brands in the market. 
We have listed the best walking shoes on shelves and mentioned some insights on their features.
Best Walking Shoes for Overweight Men
Skechers Men's Equalizer Persistent Slip-On Sneaker Review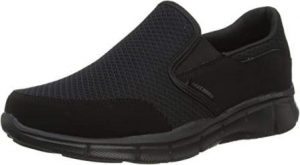 Take a comfortable walk with the Sketchers Equalizer Persistent Slip-on Sneaker. The fabric of the shoe is elastic and gives you a good fit. 
There is no need to tie your lace. All you need to do is slip it on and walk. The sole has memory foam cushioning, so no matter where you walk even unsteady ground, your feet will not have to pay the price. Every step will feel like you're walking on cloud 9. 
Premium quality synthetic material is used to design this sneaker. Its breathable synthetic leather keeps your feet cool and comfortable. The rubber sole gives you a good grip while you walk and avoids slipping. 
The shoe is light in weight, making your walk easy and pleasant. The bottom of the shoe has shock absorbers. This will make you're walk less stressful. The joints and ligaments don't feel the pressure.
ASICS Men's Gel-Venture 6 Running Shoe Review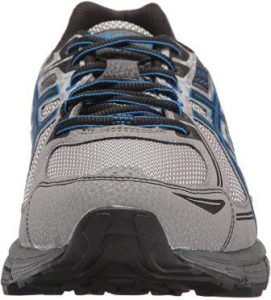 If your feet have normal arches and don't bend inward while you walk, you need to get a neutral shoe. ASICS Gel-Venture 6 is a neutral shoe designed especially for the heavy walker. 
The shoe has a thick sole and acts as an excellent shock absorbent. The stack height is 20mm and gives excellent support and cushioning to your feet. The heel has gel cushioning, making your walk enjoyable. The rubber sole provides the shoe with that extra traction while you walk.
If you have a medical orthotic, you can now make use of it. The sock liner of the shoe is removable, making it easy for you to use your medical orthotic. 
Premium material Abrasion Rubber is used to make the outsole of the shoe. This rubber is placed in critical places to improve the durability of the shoe. It is available in sizes from 7-15 Narrow and wide. 
The construction of the shoe is reliable and, at the same time, it is light in weight. You would expect a plus-Size sneaker to be bulky, but ASICS is surprisingly light.
Brooks Men's Adrenaline Gts 18 Review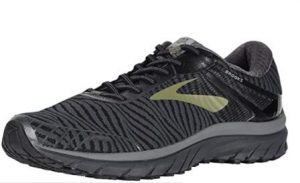 The Brooks Adrenaline Gts 18 is one the most demanded shoes for plus-size walkers. It has maintained a great balance between support and cushion. 
If you feel unstable as you walk and the arches of your feet collapse inward, you need to get a Stability Walking Shoe. 
Brooks Adrenaline is one of them. It will support your feet and maintain balance as you walk. It is a shoe for pronators and flat feet walker. It has a medial post to give your arch that extra support. The insole has a light cushioning that is removable. 
The mesh of the shoe is flexible and breathable, keeping your feet cool and comfortable for long hours. The lace-up closure gives you a customizable fit. 
Premium quality material provides you with a relaxed feel. It comes in sizes from 7-15 Narrow and Wide and is also available in attractive colors.
[xyz-ihs snippet="Blog-Middle"]
Brooks Men's Addiction Walker Walking Shoes Review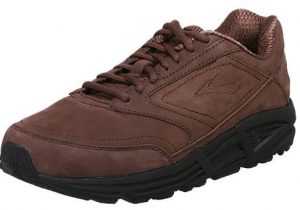 Brooks Walker is an excellent walking shoe made of 100% leather and is a comfortable pair for walking. Premium quality material increases its durability. 
It is one of the best-selling walking shoes in the market. Brooks Walker offers the feel and fit of a running shoe. The midsole of the shoe provides support to the arch of the feet. So you can confidently take every step. Most of the existing customers claim that wearing this model has relieved leg and foot pain. 
Brooks Walker is stylish and steady. Walker is a stability walking shoe, specially built for people with pronation issues and flat feet. The insole is well cushioned and cannot be easily removed to replace it with a medical orthotic. 
The medial arch has a Diagonal Rollbar that supports the pronation; as a result, you enjoy your natural walk heel-to-toe. The insole has shock-absorbing features that make your walk enjoyable.
Propét Men's Stability Walker Sneaker Review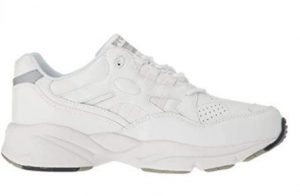 Making regular walking a lifestyle is a wise choice. Propet Men's Stability Walker Sneaker is built for lasting comfort and stability. It is designed with unique features to put a stop to foot fatigue. 
The shoe is 100% leather increasing the durability. Lacing closure, collar, and padded tongue give you a customizable fit. Arch support provides stability while walking. 
The heel counter helps prevent foot pain and fatigue. The outsole is made with rubber to increase traction and durability.
If you're looking for a shoe that supports your feet and joints every time you walk, then you need to consider Propet Walker. The footbed is made of PU and is removable in case you want to replace it with medical customized orthotics. 
Plenty of satisfied customers have reviewed saying how this product relieved their back, knee, leg, and foot pain. It comes in sizes from 7-17 Narrow and Wide. 
This particular style runs small, so for a perfect foot, we recommend you get ½ size larger than you usually buy.
Conclusion
Whether you are walking or running to lose weight, burn that extra sugar, or simply maintain a healthy lifestyle, right footwear will encourage you to take that extra step and log your daily miles every day. Shedding those extra pounds can be challenging if you don't have the right footwear. 
All you want to do is go for a walk/run and enjoy a good workout, but instead, you return with a terrible foot ache. That's going to be a significant setback, and you may feel discouraged the next day. So before you plan to log those miles, take a moment to invest in an excellent walking shoe. 
You need to consider various factors before you buy a shoe that fits your requirement and comfort. First of all, you need to find a shoe with excellent stability and support as well. 
You need to determine the type of feet you have- flat or normal arch feet. Once you know your foot type, you can choose between a neutral or stability shoe. Heavier walkers tend to have wide feet. The shoes reviewed above are either wide widths or narrow ones, while some have more room in the midfoot or toe. 
We have summed a few details you should know as a heavy walker. So you can now walk your way to shape with the above list.
Most of the shoes on our list are designed for heavy walkers, while some of them have been long-standing best-sellers—one thing we can assure you that all of them make an excellent addition to your daily workout.
[xyz-ihs snippet="Blog-Footer"]