[xyz-ihs snippet="Blog-Header"]
Hydration packs are novel inventions in the hiking world and an excellent replacement to standard water bottles. These days technology has created a better way to carry your water around while trekking or running, known as a hydration pack.
Hydration packs are essential to carry water conveniently as it is a bag of water comprising of a hydration system built into the package.  Designed with a drinking tube allows the person to drink while on the run.
This product is ideal for people who are actively into long-distance trail running, trekking, hiking, or any adventure related activities especially when you are overweight.
Best Hydration Packs for Overweight Runners Reviews
Let's check the best hydration packs for overweight runners on the market.  
CamelBak Nano Running Hydration Vest Review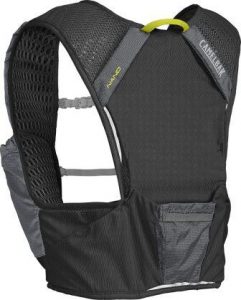 CamelBak Nano Running Hydration Vest is a necessary accompaniment for long runs. The construction includes quality materials and carries sufficient water for long distances.
It is designed to hold two 'Quick Stow' flasks of 500 ml capacity to remain hydrated, and you can also accommodate other essential items and snacks due to the extra space.
 The third Micro-mesh offers excellent breathability and better airflow. The adjustable dual sternum straps allow better support, and the pack has superior reflectivity for long distant runners/trekkers to be self-sufficient.
This snug-fitting apparel has ample storage to keep a phone safe in a zippered enclosure. There is a pocket that stretches to fit rain equipment and a trekking pole holder.
The company proves a 'Got Your Bak Lifetime Guarantee' that insures against material and workmanship manufacturing defects of all backpacks, bottles, reservoirs, and accessories.
Hence, this is a convenient way of staying hydrated on the track as it weighs around 140 grams only. A safety whistle is provided to use in an emergency. This minimalist vest is available in different sizes to cater to all categories of body shapes.
This updated version of the CamelBak Running Hydration Vest is super-efficient to keep your hydration levels high, leading to better performance and endurance.
 You have the convenience of taking it off when you don't need it, and it doesn't flap around while running as it gives a cushioned personalized fit.
SALOMON Adv Skin 8 Set Review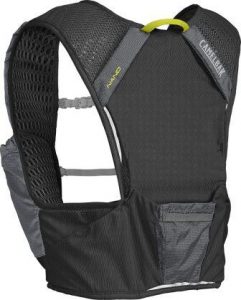 Improve your performance and stay hydrated throughout the trail with the efficient SALOMON Adv Skin 8 Set compact hydration vest.
This hydration vest fits like it is part of your clothing without any chaffing, even in humid weather. It has an anti-odor feature and a stretchable mesh material to provide a perfect fit. Along with the vest, there are two flasks of 500 ml capacity included in the chest area pockets and a 4D pole holder. Additional pockets and compartments on the front, side, and shoulder are also available to store other requisites.
It is engineered keeping the comfort in mind with durable materials like 22% elastane & 78% polyamide for the body structure, 100% polyester and polyamide Lining and Body lining respectively, and 100% polyethylene Foam.
It has reflective paneling, which provides increased visibility. It conforms to your body size and moves with you no matter what items are stored in the various pockets. It does not bounce around while running as the criss-cross fastening system keeps it secure in the front of the vest.
This vest is ideal for women, and it weighs only 240gms with dimensions of 21 x 16 x 3 inches, an 8-liter volume weight, making it lightweight and convenient.
This Synthetic SALOMON vest will exceed your expectations whenever you use it for any outdoor activities.
Arc'teryxNorvan 7 Hydration Vest Review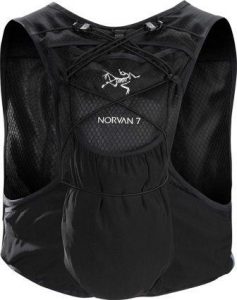 Treat yourself with the exceptional value for money Hydration Vest by Arc'teryxNorvan.This imported 'N70r nylon six ripstop' Hydration Vest merges the progressive Arc'teryx designing and patterns. 
It is incredibly functional and ideal for treks and runs even in challenging terrains, as it provides a high comfort factor, ultimate flexibility and freedom of movement. 
It helps to manage moisture levels and does not create a sweaty or uncomfortable feeling.
The pack is designed using excellent quality synthetic fiber that makes this vest highly productive. You will also get a lot of storage options with this vest, like the front side pockets and the single back pocket, which are zipped. 
The Pocket Configuration also includes four mesh pockets which are enveloped at the front of the pack. Out of these mesh pockets, two can hold 500 ml silicone flasks. Besides, there are three mesh dump pockets at the back and two pockets to carry a pole. 
This pack also has a 1.75-liter storage bag with a weather-resistant property and a 2-liter 'Source hydration reservoir.' A whistle is also provided in this pack, which can be used to alert in case of an emergency.
The vest can give a precise fit and comfort for any person's body form, and it is available in small, medium, and large sizes. The adjustable sternum and side tension straps give the vest the needed stability.
[xyz-ihs snippet="Blog-Middle"]
Nathan Vaporhowe Hydration Pack Review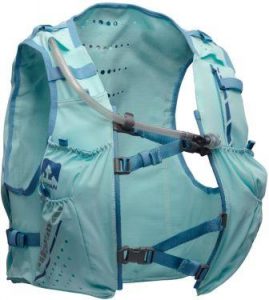 Ideal for women and incredibly stylish and versatile, this Nathan Vaporhowe Hydration Pack, Running Vest has a vapor hydration bladder reservoir having a 1.8-liter capacity. 
To prevent it from spilling the contents, it comprises of an hourglass form. It is designed so that it not only offers breathability, but it also conforms to a person's body form with utmost precision. 
Besides comfort, the Nathan Vaporhowe Hydration Pack, Running Vest, also provides convenience due to its multiple storage ability, allowing you to carry all your essential items with ease.  
There are rear pockets for storage of additional items as well as front pockets to accommodate smartphones and water bottles of around 22 oz capacity. These pockets hold the contents securely as they are either fastened with zips or velcro.
This useful 12L race vest comes with adjustment straps at the side to give the desired fit. The pack comes in varied sizes ranging from XX-small to X-Large, thus catering to a variety of customers. The entire item's weight is only 1 pound, which makes it easy to carry.
All the specifications are well thought of, and it has been adequately tested to check the endurance levels.
Black Diamond Distance 15 Backpack Review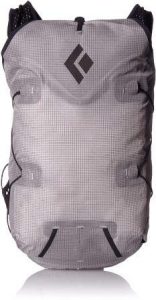 This durable alloy colored Black Diamond Distance 15 Backpack is set to delight while running or hiking or trekking.
Its compact design features an 'Ultra High Molecular Weight Polyethylene 10x Ripstop' sturdy yarns, which are accurately ten times tougher than steel per weight. However, it provides the lightweight component due to its '210d Nylon body material', allowing it to float on water. 
It weighs 1.1 pounds and has dimensions of 22″ x 16″ x 3 inches making it very compact in form.
This smartly engineered backpack is so spacious, and it's Quick Blitz-style' central outlet has a slash pocket where you can store all the extra cording.
The Black Diamond Distance 15 Backpack has a strap harness system at the shoulder area, which employs a 'stitch-less Edge Taping Technology.'
This no-sew technique reduces the overall weight of the backpack. In addition, it gives increased comfort and mobility due to the edge tape on the strap. 
This construction also includes an elastic cord providing side compression which can be easily adjusted as per your convenience.
The trekking pole or dual piolet storage on the sides is also useful for scrambling hard terrain. It has reflective ticking on the two-sided compression, which creates enhanced visibility. 
Hence this backpack will make your trail journeys and adventures as comfortable as possible, and you can carry all the required equipment with ease.
Conclusion
Hydration system vests and backpacks will make sure hikers stay hydrated perpetually. They are excellent gear for overweight people who want to run. They are designed to be both sturdy as they are made from a durable plastic, which prevents any leakage or accidental puncture. 
They come in so many different sizes and shapes, allowing you to choose the most comfortable pack for your body form to prevent bouncing and chaffing. The cost is reasonable, considering how long a hydration pack will last and its benefits.
These hydration packs vary in size, design and fit, the number of pockets, amount of fluid capacity, and materials used. That doesn't make one better than the other, but it makes sure to cater to the diverse needs of runners and hikers.
The benefit of having front-side bottles and a back reservoir is that the weight is more spread out, to give a 'balanced' pack. Being a backpacker, it is also important to travel light since you can explore more and carry more memories back home.
[xyz-ihs snippet="Blog-Footer"]