[xyz-ihs snippet="Blog-Header"]
Right walking shoes can play an essential role in motivating you to log those miles. No matter what your goal, it could be your first marathon or your 10K; if you have the right running shoes, it will get you there. 
When you have the right walking shoes, it elevates your performance as well. While running, you hit the ground with two or three times your body weight. Due to this, regular jogging could add a lot of stress on your joints. 
Aching joints can be particularly challenging for plus-sized women. Choosing the right shoe is vital. You need a shoe that offers the right kind of cushioning, stability, and support. 
We have reviewed a list of shoes for the plus-size runner. These shoes are flexible, lightweight, and support your joints.
Best Walking Shoes for Overweight Women Reviews
Let's check the best walking shoes for overweight women on the market today. 
New Balance Women's 928v3 Walking Shoe Review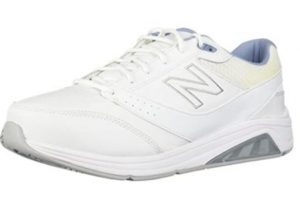 This plus-size shoe is improved and new. This shoe will increase stability and give your feet relief. No matter the distance, the shoe has excellent responsiveness and extraordinary bounce back. 
The new technology has a fiber roll bar that ensures a firm and stable grip while running. The rubber sole prevents the shoe from skidding while jogging and running. 
If you have wide feet and can never find the right fit, it's time to consider N.B. 928V3. The soles of the shoes are thicker than the average running shoes, making your walk comfortable. 
N.B. 928v3 is round-toed; this keeps your toes from getting cramped. You can spread your toes and walk with ease.
The shoes are available in three colors a combination of White/Blue, White, and Navy/Grey. If you're unsure of your foot size, you can follow the size chart available on the shopping site. 
The laces of the shoe enable you to tighten the shoes according to your comfort. The sneaker is 100% textile and leather—the P.U. 
Footbed can be removed with much ease whenever you need to wash it. They are available in sizes from 5-13 with Narrow and Wide options.
Vionic Women's Walker Review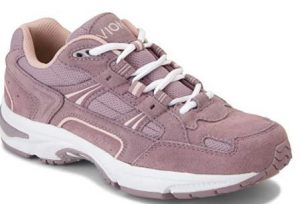 Vionic Women's Walker ensures a comfortable walk for a plus-sized woman. The shoe is made of leather and has a rubber sole. The sneaker gives you a better grip on the road, and you will not skid while walking or jogging. 
Long walks and jogs can be challenging for plus-sized women because it adds a lot of strain on the joints and ligaments. This shoe has a thick sole that reduces the pressure on your legs. 
Vionic has received acceptance from the APMA. The footbed has an in-built Podiatrist design. It has increased gait efficiency and comfort as well. You can use them to run, work, and play.
Vionic has combined style with science. The shoe is practical but also very stylish. The footbed has a contoured arc, and the heel cup is deep readjusting your stride, helping you to achieve your daily steps. 
The thermoplastic heel counter increases your support and stability. The durable rubber sole improves your traction while you walk and jog. The laces allow you to tighten it to your comfort. 
It has a lacing system with a cooling mesh liner enabling the shoe to breathe. The height of the heel is 1.25 inches. The sneaker is available in sizes from 5 – 13 with Narrow and Wide options. It is available in many colors.
ASICS Women's Gel-Cumulus 20 (D) Running Shoes Review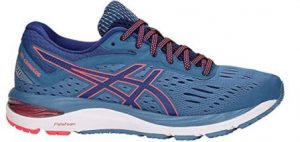 The ASICS Gel-Cumulus 20 (D) is a running shoe with rubber soles for a comfortable running experience. It enhances the foot's natural steps from heel to toe-off. 
This shoe will help you to push yourself further as it gives you a more comfortable and gentle run. The sole has a Gel cushioning that absorbs and reduces the shock and works well, especially for plus-size women. 
You can now enjoy a stress-free run even on unsteady and bumpy grounds. The shoe has ample space in it, giving you that extra room for your toes and enhances comfort, making it a perfect running shoe.
ASICS has reflective material that increases visibility when the light is low. The energetic foam provides the ultimate combination of cushioning properties and bounces back with remarkable sturdiness and reduced weight. 
The SpevaFoam has lasting material and enhanced comfort. I.G.S. Technology helps in improving gait efficiency while providing midfoot structural integrity. 
The shoe comes in sizes from 5-12. It's available in 14 fabulous colors.
[xyz-ihs snippet="Blog-Middle"]
Reebok Women's Work N Cushion Walking Shoe Review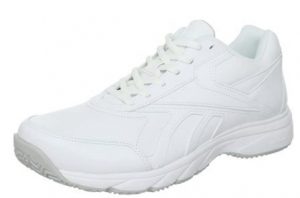 Reebok Women's Work N Cushion Walking shoes help you achieve long, comfortable walks. If your work demands you to stay on your feet for long hours, then the cushioning in this shoe will give your feet outstanding support. 
The shoe has a mesh lining that helps it to breathe easily. The out-sole is slip-resistant and increases your confidence to work on slippery hallways and wet floors. 
Most of the customers are marveled at the comfort the shoe has to offer. The premium quality material gives maximum comfort.
Reebok Work N Cushion has a low cut design that enhances your walking stride. So you can use this to work or even for your regular workout and enjoy long-lasting comfort. 
It is available in two colors, black and white. The sizes available in is 5-11 in both Narrow and Wide. The Work N Cushion walking shoe will make an excellent addition as your workout gear. 
If you decide to use it to work, it will increase your confidence too.
New Balance Women's W1540V2 Running Shoe Review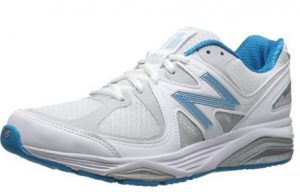 The New Balance Women's W1540V2 Running shoe is right for you if you're looking for an upgrade or merely a beginner. These shoes will help you achieve your daily fitness goals. 
The sneaker ensures comfort all day with its premium cushioning heel pad that absorbs shock giving you lasting comfort. N.B. facilitates superior flexibility, making it an ideal pick for plus-size women.
The P.U footbed is removable, offering a more relaxed fit and is slip-resistant. Every time you wear them, they ensure versatile comfort. 
The lace on the shoe helps you to wear it according to your comfort. It also has synthetic overlays and breathable mesh, allowing your feet to breathe. If you're looking at a durable pair of running shoes, you must give this a try. It comes in sizes 5-13 Narrow and Wide. 
If you're unsure of your foot size, you could check the size chart on the shopping site. It comes in three color variations; White/Blue, Silver/Green, U.V. Blue. So, you can now begin to plan you're miles.
Conclusion
Finding the perfect shoe for your feet can be challenging. When it comes to running, the main gear that matters is your shoes. When you go for a run, you could return with a great workout or a foot ache. 
The market has plenty of sneakers in different shapes, sizes, styles, and brands. Buying a shoe that fits correctly can get overwhelming at times. We advise first to have your gait tested before committing to a specific shoe. 
Plus-size women should lookout for a shoe with adequate room in the toe box, and your heels should not slip. The above shoes have a softer and lighter mid-sole to reduce the impact put on your feet with each stride. 
Keeping women's feet and comfort in mind, most of these shoes have been designed, while others are long-standing best-sellers. Our list of shoes makes excellent gear to help you achieve your weekly miles. 
If you're looking for a new pair of running shoes, we recommend the above list.
[xyz-ihs snippet="Blog-Footer"]