The lifestyle of this new age means that many people, both in the United States and across the globe, are living behind laptops and consuming ready-made food.
Fitness exercises, especially in the open air, are simple for persons with normal weight restrictions, but maintaining fitness is a challenge for overweight individuals. 
Mini trampolines are one of heavy people's very powerful and fashionable weight reduction practices.
Jumping on a small trampoline at home is a convenient way to lose weight by low impact workouts for overweight individuals.
Let's review the Best Mini Trampolines for Heavy Adults on the market today.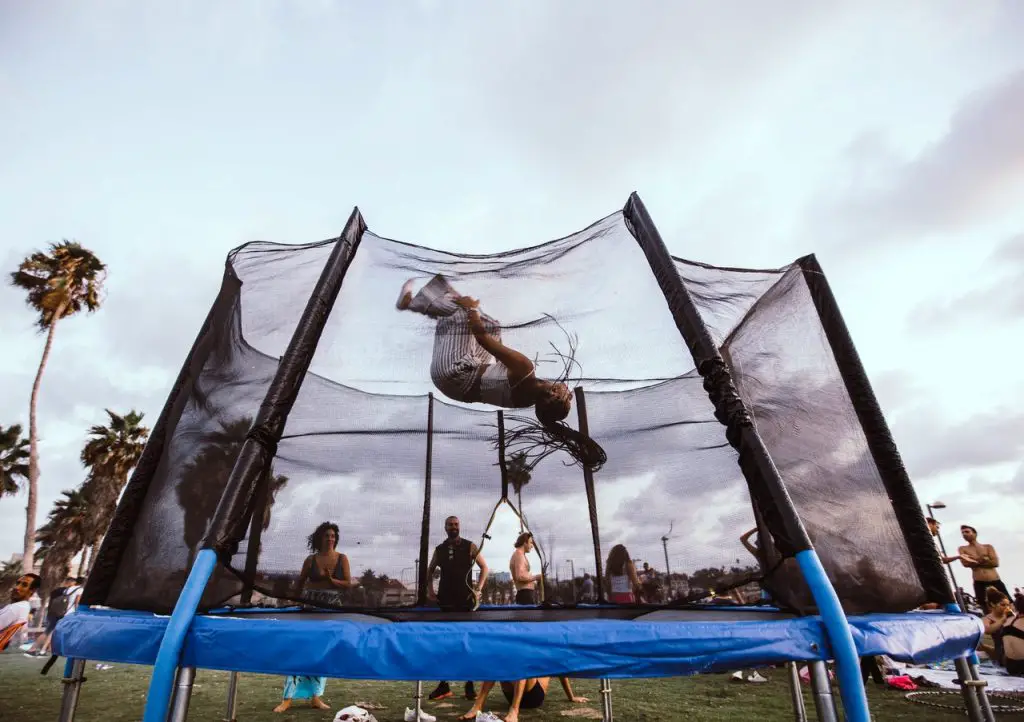 Best Mini Trampolines for heavy adults Reviews
Let's check best Mini Trampolines for heavy adults on the market today.
Urban Rebounder Trampoline with Workout DVD Review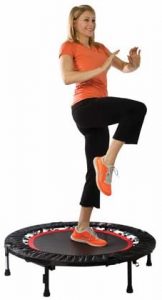 We all try to do free hand workout and yoga but for good cardio, we need good equipment. The Urban Rebounder Trampoline a very good excuse of not visiting the gym and working out at home. It is steady and is good quality product. It is very easy to install and use.
It comes with a stabilizer bar that helps in a balanced bounce. The DVD provided along has great workouts for starters and Pros. This trampoline is perfect for the whole family to use including children (under supervision).
It helps strengthening the core muscles and enhances coordination and balance. The low impact conditioning is easy on our joints and muscles and helps restore the body's stamina. Any one up to 300 pounds can use it easily. It is a mini trampoline for home use and is easy to fold and store. It has a super soft jumping surface along with heavy duty springs, making it durable and long lasting.
The DVD included, has a wide range of workouts for daily fitness regime and helps achieve the set target very easily. Once in regular practice, you can improve your blood circulation and flexibility in your body.
Stamina 38-Inch Intone Plus Rebounder Review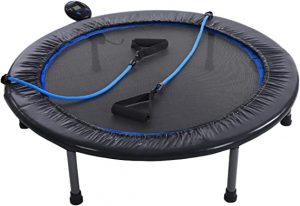 Does your schedule not allow you time to hit the gym regularly? Then Stamina 38-Inch intone plus rebounder is for you.
Stamina rebounder is made up of heavy-duty polypropylene material. The framework of it is made up of alloy steel. The area of the steel frame is 38 inches. This makes the work out more comfortable and stable.
The resistance tubes come with foam padded handles. This ensures a comfortable upper body workout.
The stamina rebounder has an attached electronic monitor. This electronic monitor measures the total number of jumps per minute. The number of calories burnt and total exercise duration is also measured by this monitor.
There is an optic blue outline provided for safety during exercise.
This rebounder can be used by beginners as well as fitness enthusiasts. It can be used by children as well as adults. Various kinds of exercise can be done on this. It is comfortable for cardiovascular and abs training. Also, it can be used for leg toning, back and buttocks workout.
It can be used indoors for various workouts. Also, it can be stored easily when not used as it is very compact. Stamina rebounder can be used outdoors as it is very compact and easy to carry. It only weighs around 13 pounds.
The resistance tubes contain a rubber material that could be allergic to some people.
Overall, it is a fun way to exercise in the comfort of your home.
Maximus Life Bounce & Burn Foldable Indoor Mini Trampoline Review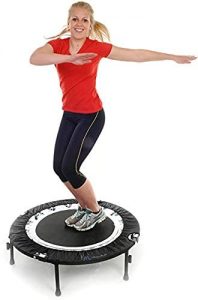 Are you too lazy to work out daily? Or too busy to hit the gym? Maximus Bounce and Burn Mini Trampoline is just the right solution for you. Various kinds of exercise are possible on this Maximus trampoline. Aerobics, belly exercise, stretching, leg toning, etc could be done on this rebounder.
This trampoline is very low impact which is beneficial for joints. The trampoline is attached to mainframe with 32 specially designed springs. This makes the trampoline very sturdy. Unlike other rebounders it is pre-assembled.
Maximus trampoline can handle a weight of up to 120 kilograms (265 lbs). For extra stability, a handlebar can be bought separately. The bounce counter is added benefit. It counts the number of bounce you do during every workout session.
This rebounder ensures all the abdominal muscles get involved in the workout. This is good for getting a flat belly without much effort.
Using this rebounder you can burn many calories within few minutes. Approximately 20 minutes per day exercise on this will make you feel fresh. It also improves overall body posture and joint strength.
Also, the exercise program designed by professionals detoxifies the body. These toxins are responsible for unwanted fats in the body. Once toxins are removed the fat reduction becomes easy.
You can not only fold it into half but also up to quarter size. This makes storing the rebounder very easy in small spaces.
JumpSport 550F PRO Folding Fitness Trampoline Review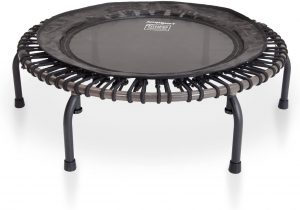 Jumpsport 550F Pro Trampoline is made up of tough polypropylene material. The frame of it is made up of Alloy Steel. Also, it has three layers of silver coating for minimum friction. It can take up to 325 pounds of weight.
The trampoline is almost completely assembled. Only legs need to be attached. Compared to other trampolines available in the market, Jumpsport 550F Pro is more durable and safer.
The padded surface area increases the overall size of the trampoline. This makes exercise more comfortable and safe. The trampoline is light in weight and easy to carry. You can use it for indoor as well as outdoor workouts.
The hinge joints are made up of a patented and unique design. This provides extra stability during jumping and another rigorous exercise.
Like other trampolines, the Jumpsport 550F Pro Trampoline does not make any squeaky noise during a workout. Enjoying a workout in a quiet environment is another excellent benefit.
 This trampoline can be used for any kind of exercise. Jumping, abdominal, leg toning, abs workout, etc can all be done comfortably on the Jumpsport trampoline.
Beginners, as well as advanced fitness enthusiasts, can use this trampoline. Individual customers, as well as gym owners, can stack it one above the other when not in use. This is easy to store.
Ultimate Rebounder by Rebound Air Review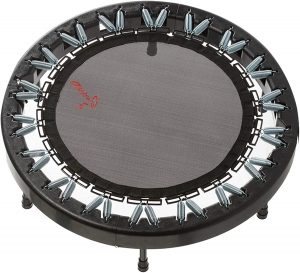 Rebound Air Trampoline is made up of metallic fiber. This makes the trampoline more durable and tough. This can handle a weight of around 400 pounds per person.
It comes with attached heavy-duty springs. Because of these springs, the workout is comfortable and safe. Also, the replacement of these springs is very simple. The springs are frictionless and noise-free. You can enjoy your exercise in a quiet and non-squeaky environment.
The trampoline can be used for various kinds of exercise. Jumping, abs training, leg toning, stretching, upper body work out, etc are a few out of many workouts that can be done on this trampoline.
The patented hinge design ensures utmost safety. The folding design is also very unique. It allows the trampoline to be folded in half. This makes it easy to store when not in use.
Rebounder by Rebound Air weight weighs about 28 pounds. Also, it comes with a rolling trolley. Hence this trampoline is easy to carry around. It can be used for indoor as well as outdoor workouts.
This perfect exercise equipment can be used for beginners as well as advanced fitness enthusiasts. The adults and kids both can use Rebounder by Rebound Air.
Lifetime replacement of the parts is an added benefit of this rebounder.
Conclusion
Overweight people should pay special attention to make sure that they get a trampoline that supports their weight. You must find one which can retain heavy weight as required and which is solid and sturdy if you are looking for the right mini trampoline for heavy adults.
There are so many brands that can carry your weight on the market. In the end, the strength of the trampoline is not only the weight, but also the quality. You need to know which mini trampoline will support your weight and which is fine and lasting. You also need to know how to use your mini trampoline well. 
All the mini trampolines reviewed in this article are good for you. Depending upon the features and pricing you are looking for you can make a choice. The Urban Rebounder trampoline is durable and long lasting and comes with a workout DVD. 
The Stamina 38-Inch Intone Plus Rebounder is sturdy and comfortable. It is easy to store and carry outdoor. The Maximus Life Bounce & Burn foldable indoor mini trampoline is easy to carry and it is already assembled. 
The JumpSport 550F PRO folding fitness trampoline has noiseless cords and can be folded into half.