It can be overwhelming before you launch your wellness journey. If your body weight also reaches your traditional training equipment weight limit, it will be much tougher. 
We are here to help you find the right rowing machine for physical support, wellbeing, and fitness!
Rowing is a wonderful exercise. It challenges all the muscles and emphasizes the knees, heart, and arms. It works by strength and pressure to challenge the muscles to start working. 
It raises your heart rate, your blood begins to flow, your liver is left without toxins and your body is increasingly fit.
Below are some of the best rowing machines for overweight adults on the market.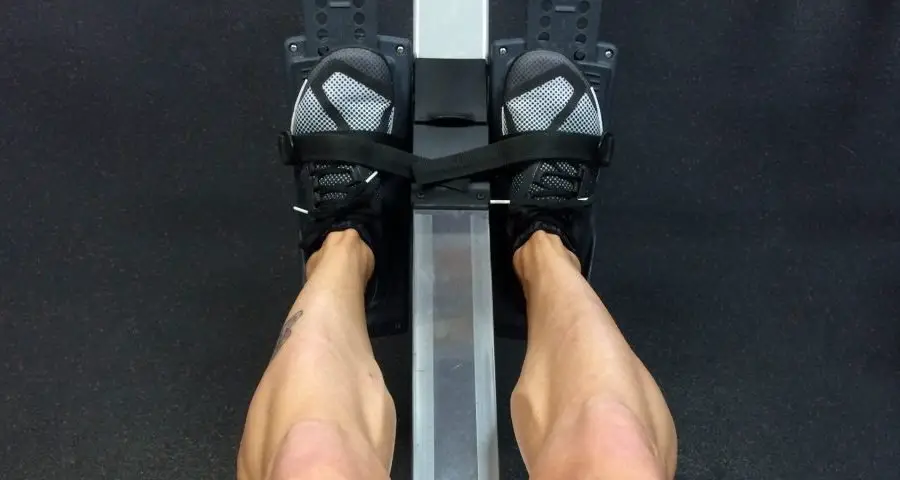 Best Rowing Machines for Overweight Adults Reviews
Let's check the best rowing machines for overweight adults on the market today. 
Water Rower Natural Rowing Machine w/ S4 Monitor Review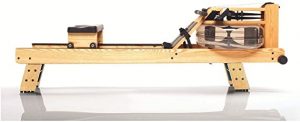 Exercise is a must for fitness freaks out there, and in times like these 'The water rower natural rowing machine' is exactly what you need. It's the ideal product to make your home into your personal gym center.
This water rower is made from high quality Kiln Dried hardwood. It also has a finishing touch of honey oak. This was designed mainly for home use and therefore can be maintained without any inconvenience. Apart from this, a beautiful water flywheel is also equipped with it in order to give it a natural vibe.
The best part of this machine is that, it targets all the crucial and important muscle groups such as the back, legs, arms, etc. It also has outstanding levels of adjustable resistance. It is very easy to use.
Almost anybody, even the people with specific joint problems can use it without any difficulty. The rower also has a high rise attachment, so that you don't have to bend real low while using it. It provides you with the actual feeling of rowing a boat. This completes your workout at the same time.
The rower has a capacity of 1000 lbs and an inseam of 38 inches. It is mobile and quite durable. There is no much work involved while assembling this machine. The only duty of the user is to change the chlorine tablet every two to six months.
Concept2 Model D Indoor Rowing Machine Review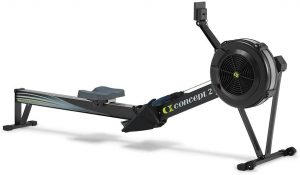 The Concept2 Model D Indoor Rowing machine is a highly advanced workout machine. This has been one of the best selling products over many years. It has caster wheels that make it convenient to move from one place to another.
The machine weighs nothing more than 57.32 pounds. It can also easily be separated into two different parts for easy storage.
It is made of Aluminum and is available in rich black color. The features and instructions for use of the rower are quite simple to understand.
It is equipped with a seat having a height of 14 inches and a user capacity of 500lb. The machine can be assembled effortlessly with the use of at the most eight screws.
The handles and the footrests are designed in a manner to fit people of all sizes. It is excellent for overweight adults. Most rowers who are overweight find the footrests on other brands difficult to reach.
A flywheel is also equipped with it to provide trouble-free movement. It can be used by athletes giving numerous competitions, people doing regular exercises, etc.
There is a pre-installed Performance Monitor in the rowing machine. It helps keep a track of you progress. This feature supplies highly reliable data without any doubt and can be trusted anytime.
Overall, this water rower provides a much better full body workout compared to any other machine available in the market.
[grwebform url="https://app.getresponse.com/site2/plus_size_runner/?u=SpIPw&webforms_id=hBasE" css="on/off" center="on/off" center_margin="200"/]
Marcy Foldable 8-Level Magnetic Resistance Rowing Machine Review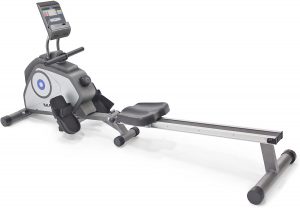 The Marcy Foldable 8-level Magnetic Resistance Rowing machine is a perfectly structured metal machine fit for all the workout enthusiasts including overweight adults.
It has eight different preset levels. They can be adjusted to match your fitness goal for the day. For a regular workout you can set the level to easy-to-use mode. On an extensive workout day you can set the level to the highest as per your convenience.
This machine is perfect for cardio exercises. It is of great help in developing proper upper body as well as lower body muscles. The pedals of the rowing machine have a design that is slip-resistant, which is secure and comfy to use.
The product is durable and is available in grey color. It also has a new foldable design that helps to save space making it easy to store. Apart from that, it has wheels that make it convenient to transport it from one place to another.
The rower has a pre-installed multi-angle monitor that can be folded forwards as well as backwards for efficient use. There is a well advanced LCD panel also equipped with the machine. It provides practical information about exercises.
The handles of the machine are foam-covered in order to prevent slipping of the hands. The foot straps too are customizable, so can be fit for all sizes without any problem. All in all this is one of best products anyone could wish for.
XTERRA Fitness ERG700 Rower Review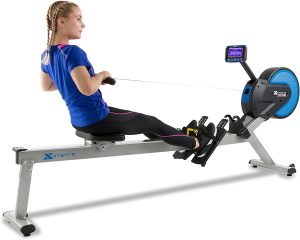 The XTERRA fitness ERG700 Rower is an easy to use exercising machine made of steel. It weighs only about 80.9 pounds and is available in black color. The frame height of the rower is 20ⁿ. This makes it convenient to climb on and off the rower. It is equipped with a 5.5ⁿ LCD display which is of blue color and has touch buttons. It displays time, heart rate of the user, calories, watts, etc.
The height and angle can be adjusted in order to fit one's perfect view. The rowing handles help provide a naturalistic rowing feeling while exercising. The dimensions of the rower are 52.5ⁿ in length and 18ⁿ in width. It doesn't take much space. The fold-up feature helps in storing the machine conveniently.
The huge display has motivational programs and sessions that help you to be determined on finishing your daily goal. It has a great combination of air as well as magnetic resistance at 16 different levels.
The machine also has a 10 different variety of programs for various exercises. It also has wheels that help to transfer it from place to place effortlessly.
The product is user friendly and one will have no regrets after buying it. It can provide you with the most amazing exercising experience you have ever had at an affordable price.
Total Gym XLS Machine Review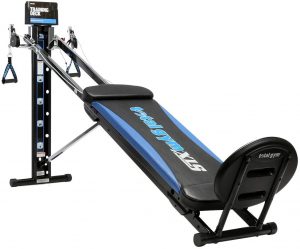 Total Gym has been in the market for over 10 years. This equipment is equally useful to both male and female, irrespective of their age, working hard to get in shape.
This machine is easy to set up and perfect for exercising at home. The product is very durable and has 6 height settings; the higher the height, the more resistance and vice-versa.
This exercising machine is excellently made and is one of the best quality products available. It comes to you at a very affordable price.
The equipment provides 80 different modes of exercise for a total workout. Thus, full body workout can be done without stressing on any single muscle group. It works on human power and doesn't use any electricity.
The Total Gym machine folds very easily and can be accommodated anywhere. It doesn't take much of your space. It weighs 400 lb and comes with numerous accessories as in wing attachment, training deck, etc.
The exercise chart and the nutritional meal plan also gives you the extra support you need to balance your exercise regime and diet.
Total Gym TV gives you free access to videos on workouts for all fitness levels for extra training and guidance.
This product is really good, when unable to go out of your house for your daily running, jogging, etc.
Conclusion
All the rowing machines reviewed in this article are perfect for you. based on your requirements you need to make a choice. Along with a trampoline, a rowing machine is perfect for getting in shape. 
The Water Rower Natural Rowing Machine w/ S4 Monitor is easy to use and durable. It is low on maintenance too. 
The Concept2 Model D Indoor Rowing Machine is space saving, easy to store and long lasting. The Marcy Foldable 8-Level Magnetic Resistance Rowing Machine is foldable and efficient. It has 8 preset levels. 
The XTERRA Fitness ERG700 Rower has wheels and has air and magnetic resistance. The Total Gym XLS Machine is compact and sturdy. It is beneficial for all ages.
You don't have to finish the quest for the right rowing machine here! Speak to your trainer, physician or peers or get feedback of people you meet about these trends have been used! 
You will find the correct one and you're going to accomplish your goal! All the best on your road to fitness!