You don't need to save your rain boots for only rainy days. Rain boots are so diverse that they can be used in other seasons as well. Colder weather can also bring about the need for rain boots.
They can be trendy and may go with many autumn/winter and spring outfits, whether you're out for a hike, running, or climbing. They will go well with other rain gear too. 
No matter if you're thin or plus-size there are quite a few choices for rain-boots (even if you have large calves).
Best Rain Boots For Plus Size Women Reviews
Let's check the best rain boots for plus size women on the market today. 
Asgard Boots Ultra Lightweight Review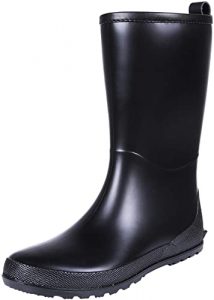 Great quality rain boots are never easy to find. The Asgard Women's Mid Calf boots are the ideal example of good rain boots. 
They are available in rich black color and are stylish too. These boots are the best product anyone could get at such an affordable price. 
They are made from the finest rubber material that makes them super soft and flexible. Apart from this, the boots can also be folded easily. This feature helps you to carry the boots from one place to another without any inconvenience. 
The top of the boots has a lovely collar that can be adjusted as per one's comfort to prevent any water or moisture to enter in.
Unlike other boots, these boots are flat and feel comfortable to walk in. The sole of the boots is anti-skid, which provides a tight grip on slippery surfaces. No more wet feet and sticky feelings because these boots are completely waterproof and will make sure that your feet remain dry. 
Many of the boots sold in the market also weigh a lot and it becomes difficult to walk in them. The Asgard Women's boots are ultra-light and provide a completely free and light feeling while walking in. Overall, these boots are some of the best boots one could get.
Jileon Ankle Rain Boots Wide Width Fit Review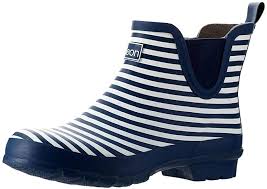 Rains are lovely, but when faced with improper boot size the experience might change drastically. The Jileon Ankle rainy boots are the absolute product you would wish for. 
They are specially made for all those beautiful curvy women out there. No more long hours of finding the perfect fit that only leads to tightly squeezed feet and bruised toes. 
Jileon is a very old and trusted brand for over 15 years. To date, they have sold up to 100,000 pairs of boots. These boots are made of natural and lasting rubber. 
The best feature of these boots is that it has a wide fit which makes it convenient to wear and walk.
Apart from this, the side tabs of the boots are elasticized. This makes them comfy to wear and easy to slip into. They come with padded insoles of high quality, providing tremendous support to the arch. 
These can be worn while cleaning the garden, attending a soccer game, dancing in the rain puddles, etc, as they are 100% waterproof. 
The non-slip soles give a firm grip on all surfaces. The looks and style of the boots are outstanding too. 
HUNTER Adjustable Rain Boots Review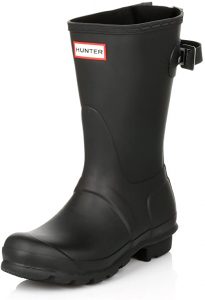 Finding the perfect rain boots can be tough at times, but with Hunter you will not have to look further. This company has been in the market for a long time and is a well known and trusted company. 
The Women's original short black adjustable rain boots are one of the best products available. They are stylish and easy to wear at the same time. 
These are constructed and designed perfectly to provide a waterproof covering. The inside of the boot has a lining made of Nylon. It has a stiff and strong rubber sole to prevent any chance of slipping.
The boots also have a buckle with an adjustable strap at the back of the shaft. This makes it convenient for everyone. Irrespective of the shape and size of your legs the boots stay fit in properly. 
The beautiful logo of HUNTER attached to the very front of the boot makes it more attractive. The foot-bed is cushioned for comfortable use. The best part of these boots is that unlike other boots that seem heavy and difficult to walk in, they are light and feel free. T
hey are long-lasting. Once purchased, there will be no regrets, for sure. Now you can step out in the storm with ease.
Kamik Women's Miranda Rain Boot Review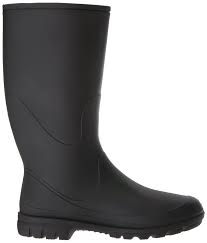 The Kamik Women's Miranda Rain Boots are one of the most gorgeous boots available. Kamik has been in the market for over about 100 years and is known for its strong and durable footwear. 
They try to depict their northern features such as strength, simplicity, and decency in their footwear. These boots are made of rubber and the sole is made of rubber to provide a tight grip. 
The rubber used is completely lightweight which in turn makes the boots less heavy and easy to walk in. These boots are manufactured in Canada and are then imported. They are completely waterproof and last long.
The calf of the boots is wide for a comfortable fit. People with different leg sizes can benefit from this. They can be worn in muddy regions, fields, etc. and your feet will be kept dry. 
The boots are specially designed in a way to protect the feet from extreme conditions. They can be worn and taken off with complete ease as they are very flexible. There is also a removable insole provided in the boots which can be kept or taken out as per convenience. 
One of the greatest features of these boots is that it is 100% recyclable. This makes them nature-friendly and re-useable. 
HISEA Rain Boots Boots Review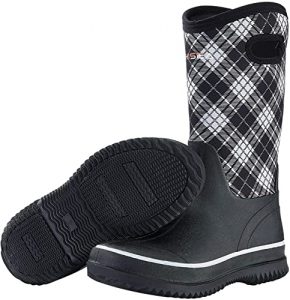 The HISEA Rain boots are beautifully and seamlessly created boots for women. They look gorgeous and are available in black, camo, and plaid designs. 
The boots provide ultimate comfort and can be walked in with ease. Work such as farming, gardening, watching soccer matches, etc can be done conveniently with the use of these boots. 
They are made of rubber and neoprene. Shock absorption and flexibility are two of the special features of these boots that make them different from the other boots available on market. They are 100% waterproof.
These boots have a high durability level compared to other rainy boots. Their length is up to mid-calf and the rubber shell reaches up to the ankle guarding it against moisture as well as other hazards. 
They also have a designed handle which makes them effortlessly simple to slip on and off. The rubber outsole is self-clean and anti-slip. This provides a tight grip on the ground and also avoids the problem of cleaning the boots over and over again. 
The boots are very light and also have a flex-foam of 5.5mm. These boots can be used throughout the year as they are suitable for all weather conditions. All in all, they are the perfect pair of rainy boots.
Conclusion
The biggest discrepancy between regular boot and big calf boot is fit. Wide rain boots for calves would have a smaller variety of designs for bigger calves. Some boots also have a variable size flexible calf area, but this booting type may not be snug. 
Rainy boots are wide and protect a large part of the body. They also have a wide, flexible bead diameter. The boots are a waterproof rubber blend. The interior fittings are also provided for greater convenience.
The ankle area of a rainy boot is not too narrow but gives a streamlined uphill look. The foot area can be extended by the toes and the body is balanced. The boots' sensation isn't too loud. This helps people to walk and run without pain for hours and keep their joints from getting stressed.