[xyz-ihs snippet="Blog-Header"]
Most of us like to go out for a run during summer. It is not only a good exercise regime but also a mood and image booster. If you run in all-weather, then it goes to show how dedicated you are when it comes to your fitness regime.
You can wear weather-appropriate running clothes and run in wet and cold weather. You can wear a jacket over your t-shirt to keep yourself dry and warm during those chilly days. Today let's review a few jackets that are excellent to be used while running during a cold or rainy day.
Best Plus-size Running Jacket Reviews
Let's check the best plus-size running jacket on the market today.
Yohoyoha Waterproof Jacket for Plus-size Women Review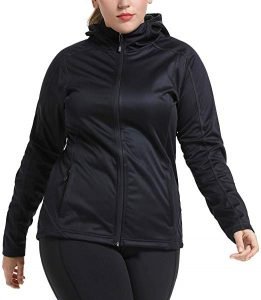 Yohoyoha is known for its fitness clothes for plus-size women. They make superior quality clothing with an excellent fit. The Yohoyoha waterproof jacket is no different. The jacket is made of fleece, which makes it super light and soft.
The Warmtech technical fabric is three layers. The waterproof on the outside to keep the water away. The middle layer provides the required ventilation, and the inner third later keeps you warm. The sizes available are from 1XL to 4XL. You can choose from black, grey and blue colors. The jacket comes will an attached cap to protect your head from cold and wet weather.
The hoodie is also lined with fleece. The jacket has a full-length zip. The high neck collar adds extra protection from the cold. The jacket is double needle sewn with split stitch on seams.
The jacket looks attractive due to the same color thread stitching. Also, the jacket is durable. The jacket gives you a snug look and feel. You can use it for your daily workouts and also as a regular jacket. The attractive looking jacket forms an essential part of your fitness clothing.
Just My Size Mock-neck Jacket for Plus-size Women Review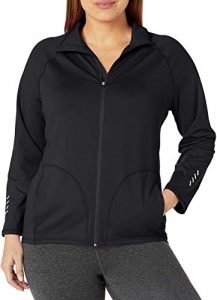 Just My Size is yet another excellent company for plus-size women to find your fitness clothing. The clothes are specifically designed for plus-size women, and hence the fit, comfort, and style is of at most importance. The imported material is used to make this jacket.
The fabric contains 88% polyester and 12% spandex. The material is durable, and you can easily wash in the machine without worries. The fabric of the jacket wicks the moisture away and keeps you cool and dry. You can close it completely using the full- length zip. It has got two side patch pockets.
The neck has high-collar like mock neck style. It is available in sizes from 1XL to 5XL. You rarely find clothing in 5XL sizes. The jacket gives you a sleek and lean look. You can pair it up with either tights or pants and look stylish. The jacket gives you comfortable warmth from chilly weather. It doesn't make you feel hot or sweaty or uncomfortable.
The jacket is sewed well and makes it durable, and the fabric ensures that it doesn't lose the fit. On the sleeve of the jacket, you will find attractive looking white stripe as well.
[xyz-ihs snippet="Blog-Middle"]
In'Voland Women's Running Jacket Review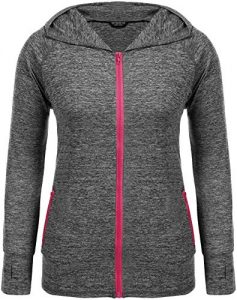 In'Voland is yet another company that manufactures keeping the needs of plus size women in mind. The fit, feel, and look of their clothing is exceptional. The running jacket by In'Voland is no exception. The jacket is made of 95% polyester and 5% spandex.
The fabric contains rapid dry tech. Hence you remain dry as it is a highly breathable fabric. The fit is perfect and has plenty of room for easy movement. The fabric is smooth to touch and feel. The running jacket has hooded hoddie to protect your head.
The full-length premium quality zipper gives you a snug fit. It comes in a slim-fit style, which adds oomph to your style. The long sleeves come with a thumb hole. The stitches are well sewn and durable. It can be washed and maintained easily.
The two side pockets can be closed entirely using the zipper. It ensures the safety of your belongings while running. It is available from sizes 1XL to 3XL. The In'Voland women's jacket is available in Grey, pink, blue, and purple colors. All the colors look attractive warm colors.
Conclusion
The jackets, as mentioned above, are designed with one purpose to protect and keep you warm in chilly weather. The fabric used is a combination of material designed to give fit and comfort. It is a breathable fabric and wicks moisture away.
YohoYoha is a waterproof jacket complete with the attached cap and full zipper. Just my style has a mock neck and regular fit, whereas In'Voland comes in slim-fit design. These jackets have full sleeve by In'Voland comes with a thumb hole and covers your entire hand.
Two side pockets are there in the jackets to keep your small change, cards or mobile phones. The jacket is soft and smooth and stretchable. The jackets are available in various colors and plus-size for you to choose from. You can use this during your running in cold weather, or you can choose to laze around in this jacket simply. You can also check our Best Plus-size Running Tights Reviews.
[xyz-ihs snippet="Blog-Footer"]