All of us are searching for wellness options at home and our home fitness centers. But you may have not seen an option that is easy to use when you are working. This would be a little bike hidden away under your work table while you are working from home.
There are many benefits of operating with a compact workout unit. They are easy to use, with even the laziest degrees of resistance. They help to sustain energy levels during the day and boost concentration.
It is still kind of fun when you work out while work in an office or at home maybe on a laptop trying to lose a few pounds. 
Exercising on your bike is a good way to divide your day's monotony with mild cardio.
Below are some of the best under desk bikes for overweight runners.
Best Under Desk Bike for Overweight Runners Reviews
Let's check the best under desk bike for overweight runners on the market today. 
Cubii JR1 Seated Under Desk Elliptical Machine Review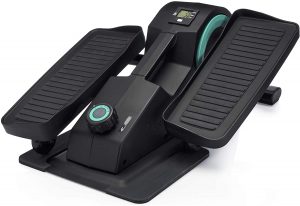 The Cubii JR1 seated under desk elliptical machine is a great exercise solution for those who are overweight. It can help you exercise by putting in less effort and still help you lose pounds.
The maximum recommended weight for this elliptical machine is 250 pounds. It is a compact elliptical. The mini elliptical's dimensions are just 23.15 x 17.56 x 10 inches (LxWxH).
It is a leading ergonomic mini elliptical that allows you to workout while you are at the office or even sit at home. This product also works as an exercise peddler for fitness.
The Cubii JR1 has motion that is smooth gliding and has 8 resistance levels which can you can switch while exercising. This helps increase exercise level as you gain strength.
The Cubii JR1 is a mini exercise bike that is quiet. Now you can read your book, watch TV and stay productive when working using this mini bike for exercise without having any distractions.
It has an LCD that is inbuilt. The digital monitor assists you to keep track of your progress. It tracks calories burnt, distance traveled, strides pedaled, and more. 
The Cubii under-desk elliptical is portable. It enables you to burn calories and move more while you pedal at your desk in the office or the living room at home.
ANCHEER Pedal Exerciser Review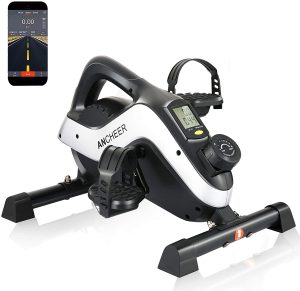 The ANCHEER pedal exerciser is a great option for exercising at home and office. It is compact. The dimensions of this mini exercise bike are 24.61 x 15.16 x 9.06 (LxWxH). 
It has a magnetic type of resistance mechanism. It is made of steel and plastic. It is battery powered. This mini under desk exercise bike has 8 levels of resistance.
The ANCHEER pedal exerciser has a connection to a smart App FitShow which you can download free of charge. This app pairs with the mini exercise bike via Bluetooth and your smartphone. You use it on android as well as iOS.
The App offers personalized coaching and various riding scenes. This makes exercising more interesting and helps you track the workout information you need. It has speed goals to help you burn calories when watching TV or when you are working.
The display is easy to read. It displays RPM, distance, time, speed, and calories burnt at the touch of an easily accessible button while in use. You can also reset it by long-pressing the yellow button. The electronic display is battery powered.
Using the adjustable tension levels, you can adjust the resistance to strengthen your legs and arms as well as to build muscle. You can also adjust the intensity for general exercise or rehabilitation.
The ANCHEER pedal exerciser is portable. It's quiet and smooth pedal motion helps you focus on work and sees to it that your office colleagues are not interrupted.
The handle design is extremely easy to store and carry. You can now exercise under the table or desk anywhere and anytime. It has an adjustable buckle that holds it firmly close to the office chair without moving.
It is very easy to install and you can install it within 3 minutes. It is of high quality and is sturdy, good for long term use. It can support more than 350 pounds.
Folding Pedal Exerciser Mini Exercise Bike Review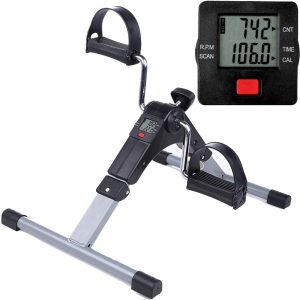 This mini exercise bike from Himaly will be a great choice for your exercising needs. It is compact. Its dimensions are just 15.35 x 13.78 x 7.09 inches (LxWxH). It is manufactured with alloy steel. The mini exercise bike is lightweight and has a foldable design.
This pedal exerciser can be folded which makes it great for cardio training for your fitness at the office or home. This is a must-have fitness tool to keep you healthy.
It can be used at home as a physiotherapy bike to exercise legs as well as the arms. You can pedal both ways forwards as well as backward on this exercise machine.
It has an LCD monitor for display which is multifunctional. The display is visible clearly. It shows counting, calories burnt, RPM (rotations per minute), and exercise time.
The mini exercise bike has a pedal resistance that is adjustable that allows you to set the intensity as well as the speed of your workout. This makes it perfect for beginners as well as experts.
It is easy to assemble. All the accessories are packed in the package and you can assemble them without using any tools in a few minutes.
The pedal is of an anti-slip kind so is the bike foot. This provides an excellent grip while exercising and sees to it that the mini bike will not slip.
Vaunn Medical Pedal Exerciser Review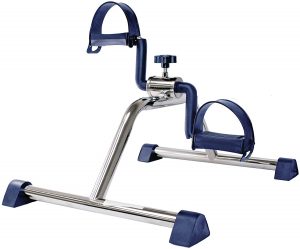 This is an exerciser for physical therapy. It gives a low impact workout, gentle for leg muscle and arms toning. The exercise pedals improve the circulation of blood via physiotherapy.
You can use it as a leg peddler or arm exerciser during physiotherapy. This pedal exerciser has adjustable tension. You can adjust the intensity of the workout therapy based on the needs you have.
It is stable and safe. The Vaunn pedal exerciser is constructedfrom a single chrome frame that is strong and sturdy. There is no wobbling in this case. Other equipment is made by assembling multi pieces structure joined by screws which make the peddler shaky and rickety during use. That will not happen here.
It has a non-skid rubber platform that's ribbed with reinforced feet of rubber to provide security and traction on any tables/floors/surfaces.
The triple-layered chrome-plated steel construction of heavy-duty gives you great lifetime durability and stability. This product has a guarantee to stay free from rust forever.
DeskCycle Under Desk Bike Pedal Exerciser Review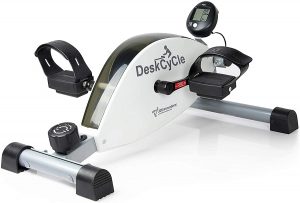 Now you can stay fit in the office. The DeskCycle Under Desk Bike helps to keep you centered, to increase efficiency, and to lose calories at your home desk or office.
The bike fits for desks up to 27 centimeters. It has patented magnetic resistance – Calm, fluid, and safe movement of the pedals is simple and helps you to concentrate on your work.
This mini exercise bike has resistance settings eight calibrated. You can choose between very basic to demanding resistance levels. This is more than 2x the other pedal exercisers' choice!
It offers 1000 mins, five Feature LCD revealing – Calorie burned calculator available online – Track your time, speed, distances, scan, and calories.
The magnet flywheel guarantees discrete output at any degree of resistance. An LCD screen displays measurements burned during the use of time, speed, calories, and distance. 
Free spinning without any joint, minimal impacts lets you easily lose calories when sitting. Active circulation increases efficiency, vitality, and mood.
The DeskCycle works for everyone, from fitness fans to naughty children.
Conclusion
Under desk mini exercise bikes are highly recommended for overweight adults. They are less intense than running or cycling and yet help you lose weight. You can use them when sitting at home or working in the office.
Under desk bikes are a very effective form of exercise. They save on effort, time, and space. From the mini exercise bikes reviewed here in this article, all are excellent. Finally, the choice is yours.
The CubiiJR1 seated under the desk elliptical machine is portable, compact, and quiet. It supports upto 250 pounds. The ANCHEER pedal exerciser supports more than 350 pounds and comes with a smart App.
The folding pedal exerciser mini exercise bike is lightweight. It has an anti-slip pedal and an anti-slip bike foot. 
The Vaunn medical pedal exerciser has a triple-layered chrome-plated heavy-duty steel construction. It has a non-skid ribbed rubber platform and constructed of a single piece frame.
The DeskCycle under desk bike pedal exerciser has 8 different levels of resistance and an LCD screen display. It helps you exercise when sitting.