[xyz-ihs snippet="Blog-Header"]
A healthy lifestyle requires an active lifestyle; that's most true. These days, even healthy people are facing difficulties, not by the extra weight they're trying to shed away, or growing muscles, instead by the accessories they 'must' possess at all times with them: phones, keys, credit cards, wallets, headphones, ID cards etc. 
Most of us use various items when we exercise to keep our valuables safe, and also to keep them secure. Having a great running belt really helps to ensure you have all the important things you need on you while you run. 
Best Plus Size Running Belts
Let's check below the 5 best plus size running belts on the market today.
AULIV Waist Pack Fanny Sling Belt Review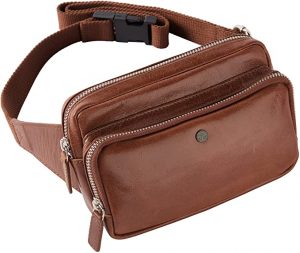 AULIV is a classy brand for leather accessories. They design high-quality products that offer functionality, durability, and style. AULIV's creations are handcrafted and sewed by expert craftsmen making use of only the best quality of leathers. It is excellent for the purpose of gifting too.
This great product, the AULIV waist pack, is designed using high-quality vegetable-tanned fabric. It can be used as a waist pack or a traditional fanny pack.  The AULIV product is stylishly crafted for you enabling its owner to become hands-free.
The AULIV waist pack contains two pockets that are zipped. The smaller pouch measures nine cms x 18 cms. Within it contains two slip-in pouches to hold your notes, cards, etc. This compartment also has separate elastic straps to hold any other essentials firmly and securely.
The main pocket measures 14 cms x 18 cms. It can house a small wallet, keys, a phone, digital chargers, and other larger accessories.
The strap is crafted of leather and canvas. It is highly adjustable. The strap's.
length can be adjusted to a maximum of 105 cms. Thus it can be easily converted into a sling or crossbody.
This unique and innovative product is a versatile accessory that can be worn in multiple ways to fit the need and occasion. This makes it a perfect gift for those who prefer to move around with freedom.
dimok Running Belt Waist Pack Review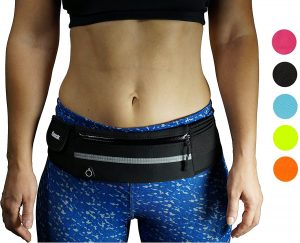 The dimok running waist pack is extremely convenient. It assists you to keep your valuable and needed items with you while exercising, doing daily chores, or running errands. When you have a busy schedule, it is important to have the ability to access all your must-have accessories and gadgets.
The dimok running waist pack is adjustable; it fits waist sizes ranging from 28″ to 49″ with the help of an adjustable and flexible belt, you can also wear the dimok pack over your clothes for the winter runs.
The dimok running waist pack is water-resistant. The Neoprene material is made up of ensures that all your valuables, accessories, and gadgets stay dry through snow, rain, mud, and sleet. It can be washed in a washing machine and is manufactured for heavy use.
The dimok running waist pack has a slimline design. The dimok waist pack prevents things held in it from bouncing around as you walk, jog, run, or traverse obstacles.
The dimok running waist pack guarantees complete satisfaction. You can get this revolutionary running belt for under 10 dollars, and you won't regret this decision you've made.
Filoto Running Belt Review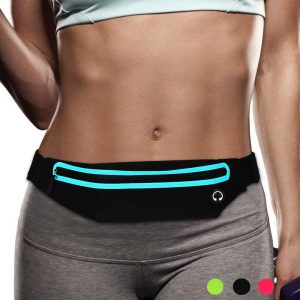 This great product is a running gear pack made out of premium material. The workout accessories waistband for running is made using Lycra fabric, waterproof, sweat-proof, and soft. This running cellular phone holder can't be soaked in water but only used if the water is splashing on it.
The Filoto waist pack has a reflective strip and an extra-large pocket. This is suitable for all kinds of cellular phones and helps to keep your cell phone from scratches. The reflective strip keeps you safe while walking or running in the dark.
It also comes with a waist strap that is adjustable that fits waist sizes ranging from 32″ to 45″ with an adjustable belt. This prevents gadgets from bouncing about while walking, jogging, running, or traversing obstacles.
The Filoto waist pack for running gives you the experience of a relaxed and pleasant aerobic workout. Now you can always have your cell phone during your workouts with you, for reading running routes, for checking heart rate, for playing music or tracking workouts.
[xyz-ihs snippet="Blog-Middle"]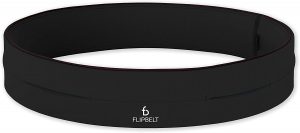 The FlipBelt is extremely versatile and comfortable. Nowadays, new smartphones are too large for standard Armbands. It has no fasteners and is chafe-free. 
It can also be used when traveling and has a money belt that is hidden. It can hold inhalers, insulin pumps, and pills as well. It is fashionable too.
The FlipBelt performs and fits perfectly as it is made out of quality materials, and in its manufacturing, high standards of quality control are maintained. The manufacturer of this innovative product guarantees 100% customer satisfaction. 
It features recovery stitching and maximum stretch, piping and flat seam, double stitching, reinforced stitching, true sizing when worn, and the best micro-poly fabric. These are all superior qualities one can count on.
The FlipBelt is strongly recommended for those who enjoy running and jogging.  Even if you are a marathon runner, this revolutionary product will make your life easier as it has been tested and has undergone trials for even distances up to 30k. 
It can also be used as a travel addition to keeping money and documents safe while traveling.  It can carry most of our frequently used gadgets and accessories, giving us the experience of being hands-free.
G-Run Hydration Running Belt Review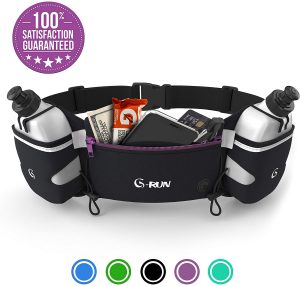 This innovative product comes with a Runners Pack (a runners pouch and a runners water belt) which comprises of a large pocket inside for all the needs required by you to store items, documents, accessories, money or gadgets as well as a water belt to carry along with you an energy drink if required when you go running
There is also a hydration pouch present, specially made for those who always need to keep water for drinking with them while they are on the go, as well as need to keep stuff like car keys or an ID with them securely. Henceforth while using this revolutionary fitness product, you will never get dehydrated even while running a marathon.
This is a unisex belt – suitable for men as well as women; it is also made in one color (Black) that would look good on men as well as women and match any color of clothing.
This fitness belt also has the feature of being bounce-free. It is adjustable as well. This will help you to enjoy all your activities in a hands-free and care-free manner.
Now your cell phone can be saved from scratches and accidental falls, as the phone will be safely and firmly kept in the pouch of this fitness belt.
PACEARM Running Belt Review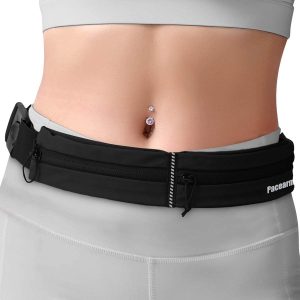 This excellent product is focused mainly on the purpose of running. It weighs just 2.1oz, probably one of the lightest running belts around. It provides proper storage to let you run effortlessly, and you may even feel that it is not even present. You can furthermore conveniently hide the PACEARM waist pack while wearing a jacket or hoodie, leaving it barely noticeable!
It is more spacious than expected. Small and slim as it is, the waist pack's running pouch contains a couple of zippered pockets that can store a phone, cash, keys, earbuds, cards, tissues, energy gels, etc. It is perfect for casual walks, jogging, cycling, dog walking, shopping, workout in the gym, etc.
It features the presence of reflective patches sandwiched between the two pockets, due to which you are secure when you run at night or in dim light conditions.
The waist belt is manufactured using premium Lycra and premium nylon fabric. This brings great comfort and softness to the skin. It has a waistband that is highly elastic and a sturdy fast-release buckle that offers a bounce-free and secure fit. It also has smooth zippers, which are long-lasting to ease the effort to take out the items from the pouch.
It is made out of water-resistant material. This running phone pouch withstands moisture, rain, dust snow, sweat, etc. All the materials are of excellent quality and durable. It resists wear and tear for an extended period of time. The fabric used is of a well-ventilated kind, it dries fast, and it can be cleaned easily.
Conclusion
As you can see, there are many excellent running belts and fanny packs for plus sized runners on the market. Pacearm running belt is the lightest one, G-Run Hydration is great for endurance, FlipBelt is very comfortable, Filoto is made of high-quality material and dimok is easy to use. Having a running belt with you when you run helps to ensure that you always carry your essentials with you. Happy Running!!
[xyz-ihs snippet="Blog-Footer"]