[xyz-ihs snippet="Blog-Header"]
It has always been a challenge to get proper fitting clothing for big people. Only certain specialist shops used to sell these types of clothing at a premium price. 
When it came to a niche like activewear it was even more challenging to procure great fitting clothes. 
We have selected some quality and stylish activewear products for you which will enable you to lead an active, healthy and social life.
Best Plus-size Running Clothes Reviews
Let's check the best plus-size running clothes on the market today.
JUST MY SIZE Women's Plus Size Active Pieced Stretch Capri Review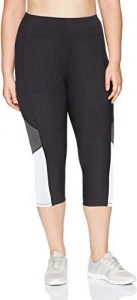 If you are looking for awesome workout pants the Just My Size stretchable Capri is an excellent and stylish option. Who says sportswear cannot be stylish?
The Just My Size Capri is available in 5 different and unique color options. You will not have a problem finding the right fit for you as sizing options is not an issue. The range starts from 1X to 5X.
The fabric used in the Capri is made up of 88% Polyester and the remaining is of Spandex fiber. This gives the Capri moister wicking properties and durability due to the polyester. 
The Spandex ensures that the fabric is stretchable and breathable. It also ensures that the Capri fits snuggly to the body contours of the user. This also keeps the muscles compressed and helps prevent any muscle-related injuries.
The fabric used is imported. This Capri by Just My Size has an inseam of 20 inches. It can be machine washed at home without any issue. The shape of this particular Capri is defined by the seam in the center back which makes it stylish.
Cover stitching is used to put the Capri together. This gives the Capri strength and flexibility. The waistband of this Capri is wide and does not have any drawstring. 
It is designed to secure the Capri comfortably yet securely to the user. These capris are great for Yoga, running or even a bike ride.
JUST MY SIZE Women's Legging Review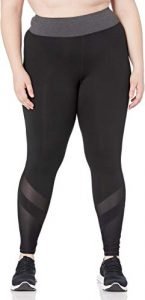 The Leggings from Just My Size is very comfortable and has a flattering look. It fits perfectly and looks fashionable with trendy stripes at the bottom of the leggings. It looks awesome with tunics or a dress. These leggings are made with a mix of fabrics. Fibers such as polyester and spandex is used to make this fabric comfortable.
The polyester used is 88% and the remaining 12% is spandex. This blend of fabrics makes the leggings substantially thick. The Just My Size Leggings has a silky texture because of the fabrics used. 
These leggings can be washed in your washing machine. The leggings are easy to wear as it has a  zipper closure. They are lightweight. The fabric used is imported.
The fabric absorbs moisture from the body and leaves your body cool and dry. The leggings from Just My Size comes with a mesh near the calves for ventilation. 
The leggings are specially designed for comfort. It has a flexible and wide waistband due to which it does not roll down the stomach.
The Just My size leggings stay true to its name because of its almost tailor-made fit, comfort, and elastic design. The leggings come in some vibrant colors. It is versatile as you can wear it on multiple types of occasions.  
The leggings will fit all age groups from youngsters to seniors. These leggings are available in a plethora of sizes ranging from 1X to 5X.
Glamorise Women's Sports Bra #1066 Review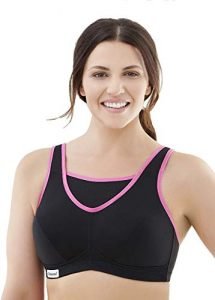 So Ladies, if you are searching for a perfect sports bra, then your search is finally over. Introducing the Women's Full Figure, No Bounce, Plus Size Camisole, Sports Bra, Wire-free Back Close by Glamorise. This is an amazing, comfortable, perfect size. It has very good coverage and support.
The sports bra by Glamorise is made by a mix of good high-quality fabrics. The fabrics used are Polyester, Nylon, and Elastane. The proportion of fabric used is 70% of Polyester, 25% of Nylon and 5% of Elastane. 
The fabric used is imported. This can be washed in the washing machine. The fabric dries quickly and has a breathable material.
This sports bra from Glamorise absorbs the moisture and sweat from the body and leaves the skin dry and fresh. It has adjustable straps. These bras are very sturdy and very supportive. 
The bras give better shape as the cups are having very good reinforcement even without the help of wires. It offers excellent support to the users.
This bra from Glamorise is multifaceted. It can be used at the gym, dance class, and workouts. It comes in a wide range of sizes. This sports bra is cost-effective. These bras are padded, adjustable and wide. It provides a free range for movement to the wearer. 
The straps relieve back pain and shoulder pain.  This particular bras design has its origins from New York circa 1921.
The bras are user-friendly and can be worn throughout the day. It promises and delivers comfort to the users. 
Glamorise sports bra has 100 years of rich experience in fashioning full-figured bras. It's specially designed keeping in mind size plus women.
[xyz-ihs snippet="Blog-Middle"]
Yvette Women High Impact Sports Bras Review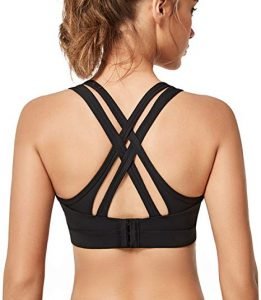 This bra from Yvette is simply amazing and comfortable. It has a wide range of sizes. It is made of a mix of high-quality fabrics. The fabrics used are Polyester and Elastane. The percentage of fabric used is Elastane 22% and Polyester 78%. These fabrics are imported.
The bras from Yvette are specially designed for comfort. It provides good support and a perfect fit for the user. These bras protect the health of the women as they are made from irritant-free materials which do not cause rashes or sores.
The super cool to touch fabric makes the user feel very comfortable. These bras are wire-free and make it more comfortable for wearing. The special criss-cross pattern makes this sports bra from Yvette even more stylish. It gives the bra a fashionable and beautiful look.
These sports bras come in radiant colors. This stylish sports bra from Yvette offers both comfort and support which other bras lack. These bras are multifunctional. The bras can be washed in a washing machine. It can be used for workouts, martial arts, gym, dance class, running.
It can also be worn under Tops, T-shirts and Tunics. The sizes mentioned in the chart are correct and it fits perfectly. These bras have great coverage without revealing much. 
The bras from Yvette are cost-effective. These bras do not put pressure on your shoulders. This bra is of high quality and durable. It is a must-buy product and worth for money. Yvette has a professional after-sales team for any type of queries related to sports bras.
Sinzelimin-pants Men's Casual Trouser Review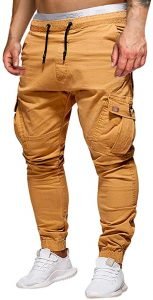 The trendy athletic jogger slacks and running trousers are brought to you by Sinzelimin. These jeans
have a ripped design element at the knee which gives a very ultra-modern fashionable look to the wearer. The jeans are made with denim of the best grade and quality which gives the user maximum comfort and flexibility. 
Even though these jeans are skinny fit, the wearers movements are not restricted owing to its high quality and innovative design.
The jeans are great for someone who is big as it will not restrict the persons movement. The fabric of these trousers is breathable and ensures that you don't feel very hot in them. 
The jeans can be worn while exercising or on any casual occasion. The jeans are good for people who are very muscular and have big legs.
For those people who are on the fatter side, these trousers will make you look good and will encourage you to go out more and lead an active lifestyle.
You have four smart colors to choose from as per your mood or preference. The trousers have 2 nice big pockets with flaps which can be secured by buttons. The colors available are black, white, yellow and grey. 
It must be noted that these jeans run 1 to 2 sizes smaller so if you are an XL you will be to go for a 2XL or a 3XL. The sizes that are available range from medium to 3XL.
Amazon Essentials Men's by DXL Review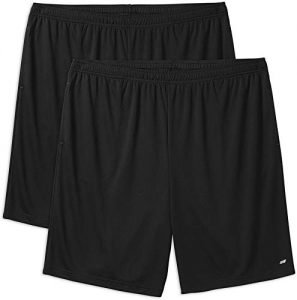 One of the most important things in a man's wardrobe is a comfortable and trusty pair of shorts. These shorts by Amazon Essentials will definitely fill that spot. 
The shorts are made from 100% polyester fabric. These shorts are designed by the DXL design house. They are specialists in designing clothes for big and tall people.
The polyester fabric is made from a close-hole meshed pattern which enables the shorts to be extremely comfortable and draws sweat from the wearer. 
These shorts are the best for your workouts or daily wear at home. The shorts can be easily cared for you just need to machine wash them after use. These shorts come in a handy pack of two.
You can have them in color combinations of black/black, black/grey and grey/blue. Sizing options are great as they start from 2X and go all the way up to 6X.  
These shorts are best for your workouts and running as they are loose-fitting and allow the wearer a free range of movements.
The shorts can be easily secured to your waist with the help of the drawstring in the waistband. For convenient storage of knickknacks, there are 2 pockets that are provided on either side.
Amazon being a customer-centric brand has taken heed of the customers feedback and developed this product which is much better than most shorts on the market.
Amazon Essentials Men's Big & Tall Sherpa Lined Sweatshirt fit by DXL Review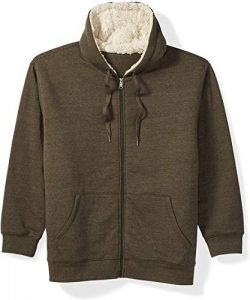 This sweatshirt for Men's by Amazon Essentials is stylish and comfortable. The jacket has a Sherpa lining which is thickly piled and made up of 100% polyester. This gives the sweatshirt a plush and soft feel. 
This jacket has all seasons capabilities. It can be worn in Winter, Spring, and Summer. The fabric used to make this jacket is from imported material. 
A blend of fabrics is used in the construction of this jacket. Fabrics like cotton and polyester are used in a ratio of 60:40.
The hood of the sweatshirt is adequately insulated and will keep you warm on a cold day. This jacket has been designed in conjunction with DXL to engineer a perfect fit for Big and Tall users. 
The sizes available range from 2X to 7X for the big users whereas sizes 2X Tall to 6X Tall for the tall users.
This jacket is available in several color options. These are Olive, Black, Grey, Navy, and Charcoal. This jacket comes with Kangaroo pockets which are split. 
The hood of the jacket can be secured by a drawstring. The cuffs and the hem of the jacket have wide ribbed elastic. 
There is no need to send your jacket to the dry cleaners as this jacket can be easily washed at home. This jacket by Amazon Essentials definitely a fashion accessory.
Conclusion
The world is full of its sights and surprises and you should go out there and experience it. We have selected some of the best and economical plus size running clothes for you. 
We have shortlisted options for both men and women. There are many excellent skirts for plus-size women on the market too. The products that we have selected will enable you to step out in style and not be conscious of your body. 
It will give you both comfort and flexibility. These products will help you stay in good health both physically and mentally as it will support you as you workout and also instill confidence in you while you socialize.
[xyz-ihs snippet="Blog-Footer"]