[xyz-ihs snippet="Blog-Header"]
When you want to go for a run, the most comfortable clothes you can wear are a T-shirt and a pair of shorts. The advantage of wearing plus-size running shorts is that you will be comfortable and will genuinely enjoy your run.
Having comfortable shorts that don't ride up will help you run faster and for a longer duration. 
Best Plus-size Running Shorts Reviews
Let's check the best plus size running shorts on the market today.
Active Woven Plus Shorts Review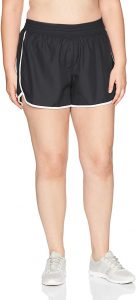 The JUST MY SIZE Women's shorts are extra light in weight, super comfortable and not too short. Their pricing is as comfortable as the garment itself. 
The shorts are made of soft material and sport mesh panels on either side which makes them free and breathable.
The fabric is made of non-stretchable material and although they have a baggy look, there's room for movement. You will be comfortable wearing them in public as they provide ample concealment.
They are the perfect wear to be able to beat the heat. You can even sleep in them. They can be closed with drawstrings with an additional drawstring inside which is adjustable to give a customized waist fit.
A convenient hidden key pocket is provided in the waistband. These shorts can be machine washed.
When you wear these shorts you will feel the breeze and air around you all the time. You will experience that they never ride up or cling to your body with sweat.
So when the weather starts heating up and you want something comfortable for outdoor wear go for these shorts. You will never regret your decision.
Blevonh Women's Shorts Review
These shorts have all the features you would be looking for in a garment for working out or simply lounging. These are women workout shorts. Made of light material they are lightweight, breathable and can handle both machine and hand wash. 
They dry quickly after a wash and need no bleaching or ironing. Provided with two roomy pockets, they allow you to carry your phone and keys when you are on the move. 
They are ideal for your athletic activities, walking, yoga and are available in three attractive colors, so you can take your pick.
The shorts are super comfortable and fit snugly. They are of a perfect length and have pockets with room enough for a phone. There's a layer beneath to cover you but loose and stretchable for comfort. 
The fabric's highly stretchable and smooth feature allows you ample freedom of movement and makes you feel comfortable.
The shorts are compatible for wearing with any of your favorite shirts, T-shirts, tank tops and other fashion wear.
They can be used by sportswomen playing in competitive games for snugness in fitting and total comfort. The lining fits more like shorts rather than panties. 
A set of three in different colors would serve as an ideal gift for your loved ones.
IN'VOLAND Women Dolphin Shorts Review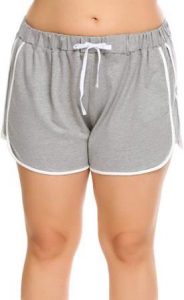 The IN'VOLAND Women Dolphin shorts are super soft and very comfortable women shorts for jogging, running, playing sports games, yoga or simply lounging. 
They are simple yet cute and feature a loose fitting cut which fits your body easily and well. Long enough not to reveal everything and you are super comfortable and confident when bending over without being self-conscious.
The closure of the Dolphin Shorts is elastic with an adjustable belt so that it fits you perfectly.   
The superior quality elastic used ensures that it never get twisted after repeated wash.
The shorts are so comfortable that you will be able to walk in them for hours together. You can be sure that your inner thighs will not protest for you to sit and give them a breather.
Who has not experienced that irritating sticky feeling when doing heavy workouts? No more of that with these shorts as the fabric is totally breathable and allows lots of air flow. 
They are just right for indoor workouts and ideal for anyone keen to experience to step out outdoors in shorts.
You will love the beautiful color and comfortable texture of the material of these pants. You can wear them to the gymnasium or as casual wear around the house. 
They are comfortable for wearing when participating in any type of sports activities, jogging, hiking and yoga. They make a great gift.
[xyz-ihs snippet="Blog-Middle"]
Nike Women's Plus Running Shorts Review
The unique fabric of the Nike Women's Running Shorts keeps you free from sweating as you go about your workouts. They are made of special fabric that expertly draws off sweat making you feel comfortable throughout. 
They need to be machine washed preferably and are quick drying. An inseam of 3 inches and curved hem allows you to perform a set of motions comfortably.
Side Mesh panels ensure that areas that are prone to heat up are kept cool. The elastic waistband which is adjustable ensures that the shorts fit as per your requirement. 
The shorts sport multiple pockets for conveniently carrying your phone, keys and such like items.
The shorts are awesomely comfortable and super for walking, jogging, working out and for performing yoga. Also comfortable for participating in long races as they are breathable and keep the sweat accumulation to a minimum.
These shorts are perfect for even those who have thicker thighs and do not ride up. They are of just the right length, neither too short nor long with enough room in the thighs.
The material, cut, color are all very perfect & attractive looking and made for comfort. You can wear these shorts with your T-shirts or favorite casual shirts for that perfect look. 
These shorts make for great gift items for your loved ones.
Amazon Essentials by DXL Men's Shorts Review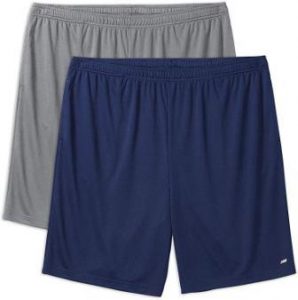 When you try on a pair of Amazon Essentials Men's Shorts, you will find that they are super comfortable.
They might appear to be too big, but you'll love the way they fit loosely. The length is perfect reaching just above the knees. They are made of thin and very light material and are lighter than denim or cotton. 
They are durable and even with a number of washes hold up quite well. The shorts are for big guys that make available some extra room in the middle area for comfortable fit.
These are simply wonderful shorts being comfortable, durable, and quick drying. The pockets on either sides are roomy but it would have been great if it had a rear one for carrying a wallet. 
There are mesh panels on either side to provide cooling effect to the parts that heat up during workouts.
You can use them as general purpose shorts and can also use them as swimming trunks. The makers of these shorts are good listeners to customer feedback and accordingly incorporate fine details to ensure quality product.
They have a waistband which is adjustable. They make for great gift items for your near and dear ones. It is an awesome casual wear with your T-shirt or favorite casual shirts.
So if you are planning to add a set of shorts to your wardrobe go ahead and get the Amazon Essentials by DXL Men's Shorts.
Champion Men's Jersey Shorts Review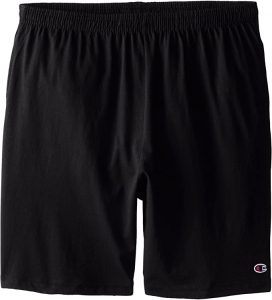 The Champion Men's Jersey Shorts are super lightweight material shorts with well concealed waistband and a pocket on either side. 
The material is lightweight and breathable ensuring that there is minimum sweat retention. The shorts are so comfortable that you will have no issues wearing them even in bed.
At times when you select garments that look good you find that you have issues with shrinkage and bleeding. You will not find that with the Champion Men's shorts. 
They are exactly what you would be hoping for and more with neither shrinkage nor bleeding. You will find that these shorts are of far better quality than the other shorts on the market.
The Champion Men's Jersey Shorts is very durable and does not fall apart like other products and will last you for many years.
Its imaginative cut gives you that extra comfort. It requires washing in cool water drying on low heat. You'll love this cut for its longer leg and for the sufficient room at the back.
The Champion Men's Jersey Shorts are made from pure imported cotton. It has an elastic waistband and the closure is with internal adjustable drawstring. On the left leg is the Champion logo. It needs washing in a machine.
The Champion Men's Jersey Shorts are great for walking, jogging, workouts, game sports and yoga. They are also super for long distance race competitions. They make for great gifts items for your near and dear ones.
Ursexyly Men Weight Loss Workout Shorts Review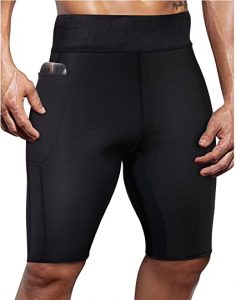 The Ursexyly Men Weight Loss Workout Shorts are a super pair of shorts for working out specially designed for you to lose weight. 
The heat/sweat is retained during your workout which you will begin to notice within minutes of starting. Select the right size for a snug fit that allows free movement and doesn't make you sweat.
They are similar to compression shorts, but loose enough in the thigh areas. It would not be a bad idea to use them beneath one's workout shorts.
They can be put to versatile uses like normal everyday exercises, bicycle riding, brisk walking, running, hiking, yoga & pilates.
This unisex gym shorts aids to get you in shape, giving definition to your body segments. It not only makes your figure look appealing but also enhances abdominal sweat which helps to reduce weight. 
It also has an identical effect on the waist and thighs as a result of which they slim down.
The Ursexyly Men Weight Loss Workout Shorts are designed so that the effectiveness of your workout and burning of fat is maximized and calorie burning expedited. 
Its internal texture aids you in working up excess sweat. The running shorts turn on the heat but will not make you feel uncomfortable and heated up.
The Ursexyly Men Weight Loss Workout Shorts fabric has a breathable feature that permits air to get to your skin and make you very comfortable. 
Further, it draws away perspiration from your skin, dries quickly, so you remain dry for most part of strenuous workouts.
The scientifically designed shorts and their compression aids in correcting your posture, flattening your lower abdomen and thighs. This leads to a trim appearance. 
For best results, it is advisable to wear them while going through strenuous exercises.
Champion Men's Core Training Shorts Review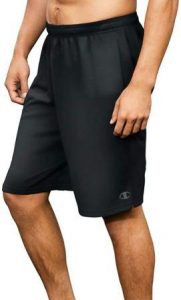 The Champion Men's Core Training Shorts are the perfect shorts for men who desire long period work outs in comfortable and sweat free shorts. 
They are available in small, medium, large, extra large and double extra large sizes. The shorts are also available in different colors so you can choose your favorite one.
The Champion Men's Core Training Shorts are made up of cent per cent polyester material. The length is perfect too, not very long or too short and do not ride up during workouts. 
The in-seam is ten inches in length. These Training Shorts are designed for training and workouts that are demanding. They are excellent at keeping you comfortable, even during vigorous activities.
The Champion Men Shorts draw out sweat effectively and moisture from the garment evaporates quickly keeping you comfortable throughout your activities. 
The lightweight fabric which dries quickly feels great on the skin. The elastic waist adjusts with an internal drawstring.
Their fit is awesome and neat. There is a pocket each on either side of the shorts making it convenient to store your phone and keys. It lacks a pocket at the rear which could have been provided.
All in all a super pair of shorts for the gym as also as casual wear with your T-shirts and your favorite tops. They also are perfect gift items for your near and dear ones.
Conclusion
It has become fashionable to wear shorts in the open, be it for jogging, exercise or walking. So it is necessary to choose carefully what type of shorts you wear. What you should look for is comfort and style. You can also check our article on the best Nike shorts. 
Every pair of shorts reviewed above are comfortable, long-lasting and are made of high-quality material. 
[xyz-ihs snippet="Blog-Footer"]