[xyz-ihs snippet="Blog-Header"]
Saucony VERSAFOAM Flare Running Shoe for Women Review
Once you have decided to stay fit and healthy, the next step would be to decide upon a fitness activity you would like to pursue. Running is an excellent option to remain fit. It not only increases cardiovascular strength but gives various other fitness benefits. 
You can opt from moderate-length run to progression run to the long run. Likewise, you can decide upon your running gear. You can choose from pants to shorts to skirts or skirts. 
A skirt is a combination of a skirt and inbuilt shorts. Skirts is one of the popular item sold under the fitness attire for women these days.
Best Plus-size Running Skirt Reviews
Let's check the best plus-size running skirt on the market today.
Umina Women's Active Skirt for Running Review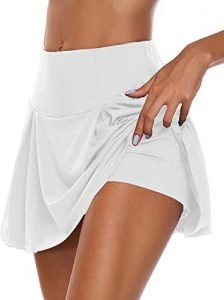 As the name suggests, it is ideal for active women who would like to take up running, tennis, or golf. The fabric used in skirt is made from a high-quality combination of durable materials. 
The skirt is lightweight. It has a two-layer design. The outer skirt and the inner short is secure and comfortable to wear. The fabric is breathable and hence keeps you dry.
The stretchy fabric gives you an excellent fit. The sizes available for plus size are 1XL and 2XL. The waistband has wide elastic and remains flat once worn. The waistband is mid-rise in style. 
It has an attractive and unique pleated design. The fit style is slim, and the length style is Mini. You will love the fit and style of the skirt.
The Umina Women's Active Skirt is available in attractive colors like black, white, red, blue, and grey. The Waist size for 2XXL is 32.7 inches, the length size is 15.4 inches, and the Hip size is 48.4 inches
Guteer Women's Active Athletic Skirts for Running Review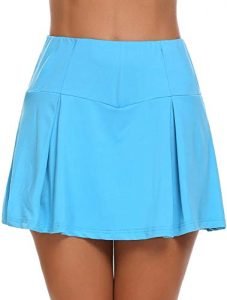 The Guteer Athletic skirt is made of a high-quality combination of materials. The material of the skirt comprises of 92% Polyester and 8% spandex. It is available in 1XL, 2XL, and 3XL suitable for plus size women. 
The size measurements for 3XXL are Waist 35.4 inches, Hips 46.5 inches, and length 15.7 inches. The style is a pleated skirt design with in-built shorts.
The elastic fabric offers maximum comfort and is light in weight. The fabric dries quickly, and it deals with moisture effectively. It is ideal for running. It has a wide waistband. 
The elastic gives a comfortable fit around the waist. The outer skirt and inner shorts give you complete non-transparent coverage. It is easy to move in it. 
You can wash it in the machine. But it shouldn't be tumble dried.
In case you want to iron, then use a press cloth. You shouldn't bleach the fabric. You can choose from six colors – Red, Black, Blue, Grey, Navy blue, and White. 
You can wear it for running and other activities like tennis, golf, or casual shopping.
[xyz-ihs snippet="Blog-Middle"]
HonourSex Women's Pleated Skirt with Pockets Review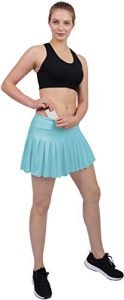 HonourSex pleated skirt for women is ideal for plus size women the high waistband and full pleated skirt loves cute and can hide the bulges beneath the pleats. 
It is available in 1XL and 2XL sizes. It gives you lovely color options like blue, pink, red, yellow and also with stripes and polka designs. HonourSex has attractive skirts options to choose from.
The fabric used is a combination of polyester and spandex, making it ideal for running. The wide waistband with elastic and drawstring helps you adjust the fit on your waist. 
The skirt comes with built-in shorts with durable stitching. You can stretch and exercise without any worries. It gives you a great movement range.
The unique feature is the hidden pocket in the front with a headphone hole. You can securely keep your mobile in the pocket and pass headphone cable through the hole while you run.
You can easily keep your credit card or keys in the pocket as well. In case you opt for a game of tennis, the pocket can easily hold a tennis ball. It is an ideal summer wear sports skirt.
Conclusion
The variety of skirts available in the market makes it difficult for you to choose. We have reviewed a few best-quality skirts for you. All three companies offer high-quality fabric that is itch-free and sweat-free. You can also check our article on the Best Plus Size Running Skort. 
The style and design give you a maximum range of movement. The sizes available fit perfectly for plus size women. The wide waistband gives you maximum support on the waist and gives you a lean look. 
The inbuilt shorts fit well, and you don't have to worry about it getting rolled-up. The non-transparent fabric with durable stitching makes you worry-free and gives excellent flexibility needed for your workout session. 
The HonourSex gives you full pleated skirt with pocket. Umina and Guteer have two pleats in the front design. The super-stylish shorts can be worn not only as sportswear but as casual clothing as well. 
Choose the skirt as per your need and size, but make sure you own one of this fantastic skirt. You can also check our Best Women's Plus-size Running Shorts Reviews.  Up your style quotient with this uber stylish skirt and happy running. 
[xyz-ihs snippet="Blog-Footer"]