[xyz-ihs snippet="Blog-Header"]
Exercise skorts give you the freedom of shorts, along with the femininity and clean lines of a skirt. You can do just about every type of activity in a skort, from bicycling uphill to hitting a tennis ball on the court. 
Presently, many retailers offer athletic skorts that come in a range of colors and lengths, allowing you to feel comfortable and modest at the same time. You never have to worry about wind gusts accidentally lifting up your skirt because if it does, the pair of shorts underneath provides ample coverage. 
There's a reason skorts have stuck around for so long—they're cute and versatile.
Best Plus Size Running Skort Reviews
Let's check the best plus size running skorts on the market today. 
BALEAF Women's Athletic Skorts Review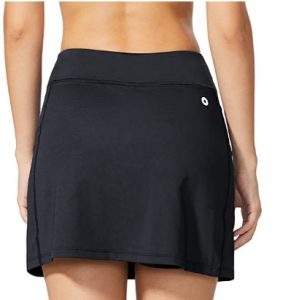 If you've been searching high and low for sweat-wicking clothing that also has an element of style, look no further. The Baleaf women's athletic skort has the solution. While there are plenty of options, this breathable, two-layer skort stands out from the rest. 
Designed with a polyester and spandex fabric blend, the skort provides enough stretch to comfortably perform any level of activity. 
The adjustable drawcord waist allows you to customize the fit, while the moisture-wicking fabric keeps you cool and dry, making this skort perfect for all-day wear. 
If you need to carry a few things, the mesh pockets underneath the top layer can comfortably fit a phone, keys, or wallet securely.
Shoppers have noted the athletic skort is extremely versatile and can easily be worn for anything from working out to doing housework. 
And, thanks to the reflective detail on the hem, you can rest assured you won't go unnoticed when out running at night.
The skort actually houses several features that make it just as functional as it is comfy and stylish. For runners or avid walkers, there's a small opening on the top of the left front waistband that you could place your house key. 
There's also an exposed elastic in the waist that you could clip your house key to. There is a reinforced opening on the back right to thread your earphone cord through, so you can take your music with you when you're out on your run.
HEAD Women's Athletic Skort Review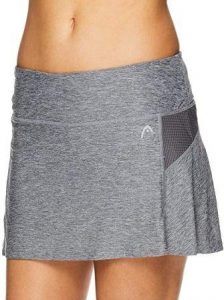 No matter how active your lifestyle is, this skort is sure to become a summer staple for nearly anything, even just lounging around the house on the summer's hottest days. 
The Head women's athletic skort is an answer to finding the right skort for you.
It is crafted from Polyester and Spandex, which are high-quality materials for any sports-related fabric. This blend of Polyester and Spandex fabric provides a comfortable, breathable, and soft sports skirt. 
It features a pull On closure. Using this skort, you can be comfortable playing any sport where you are going on a run or just practicing your serve; HEAD workout skorts keep you feeling fashionable and fit always. 
This skort is the best for tennis, running, or any exercise. 
It has bold looks. The HEAD athletic workout skort is available in several trendy designs. Fitness wear never looked as good as these skorts. The fit is secure. 
The skirt shorts combination backsides feature a snug banded waist that stays put during workouts and moves with your body. 
The athletic design relaxed flat seams keep you comfortable all day long. It has moisture-wicking fast-dry material that guarantees that you stay comfortable and cool during intense activities.
Now you can challenge your opponent on the court by giving your best on the court staying comfortable and cool.
Ekouaer Women's Performance Skort Review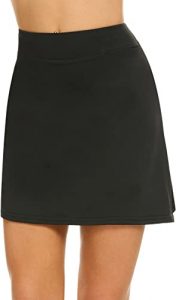 If there was an item as comfortable as a pair of soft shorts, and as cute as an adorable dress, some might say it would be the perfect summertime clothing. 
And those people would be correct. But this isn't just a made-up scenario, because, ladies and gentlemen, there is the skort. 
While the design is mostly associated with sports like golf and tennis, it's actually an incredible item to wear on any occasion, especially in hot weather. 
The Ekouaer women's active performance skort is a lightweight garment is made with moisture-wicking and wrinkle-resistant fabric, making it the perfect item to wear when it's a little toasty outside; if you break a sweat, no worries, the skort is also quick-drying. 
With this find, you get the feminine shape of a skirt, but the anti-chafing comfort of a nice pair of spandex shorts. 
Not only does this keep your legs from burning, but it also keeps any wardrobe malfunctions from happening. It's a secret way to make wearing a skirt feel less restrictive. 
Coming in 25 different patterns, this skort will easily fit your needs. If you're looking for something you can wear with absolutely anything to absolutely anywhere, the solid color options like black or blue are ideal. 
You can pair these colors with comfortable walking shoes on a hike, or dress them up with some cute flats and a tank for barbecues and nights out. 
The bolder designs will look so cute with your summer wardrobe. There's a light gray geometric pattern that's preppy and feminine, a classy blue floral option that would dress up any basic tee, and a cheery green print that looks like it's made for the golf course.
[xyz-ihs snippet="Blog-Middle"]
EAST HONG Women's Skort Review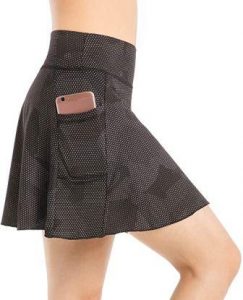 If you are looking for a women's athletic skort your search ends here. The East Hong women's athletic skort can be worn for a variety of sporting activities such as golf, tennis, etc. 
It can also be worn during workouts at the gym or when doing any of your chores. It is comfortable and cozy and will keep you cool during the summers.
The skort is made of 88% Polyester and 12% Lycra. It has an elastic closure. It is moisture-wicking, soft, breathable, and quick-drying. This skort has two layers, an outer skirt and an inner short. It has pockets to put small accessories, golf balls, tennis balls. It is perfect for outdoors, running, hiking, or any other fitness activity. 
This skort has pockets on the side of the to keep small items such as cards or keys. It has a wide elastic waistband for a natural and comfortable fit providing plenty of coverage while stretching and bending. It has a pleats design that is fashionable. It is not see-through, allowing you to move without worries. 
The two-layer design is comfortable and offers a flared skirt outer and inner shorts allowing you to be on the go without any hassles. 
This skort is a perfect choice for you if you are looking for comfortable athletic wear that could also be worn for day to day activities, keeping you cool and cozy even during intense activities.
BLEVONH Women Skorts Review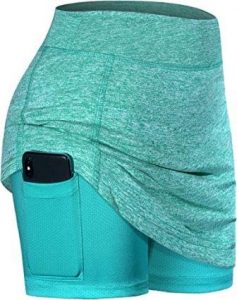 From a wide variety of skorts available at online stores, this skort is a must buy. It is extremely cool and breathable. It is made of Polyester and Spandex. 
The outer skirt, as well as the inner shorts, are made from 92% Polyester and 8% Spandex. It has an elastic waist closure. 
While using this skort, you won't experience any chafing as the inseam of the short under the skirt is long enough to keep your thighs from rubbing together and chafing. 
The Blevonh skort has a big side pocket inside on the inner short for you to keep your phone or any tennis or golf balls. It features a high waist. The elastic waist stays in place and hides the stomach and will not roll down. This helps you to enjoy as well as perform well at your sport. 
The athletic skorts are great for running, jogging, swimming, volleyball, tennis, golf, badminton, biking, going to the beach, or even casual wear. 
This active skort is a great choice for use with yoga tops, running tanks, running shirts, and casual shirts as it comes in a variety of colors. 
This multi-functional skort is meant to be worn for a variety of summertime activities, from your casual summer bike rides to games on the court. 
The skort is made from a polyester and spandex blend for max stretchiness and comfort. Scoop it up in a few more colors to keep in your daily rotation.
Conclusion
Are you still not sure how you feel about skorts? Start with a super affordable option like one of these described above as a test drive. 
Choose one that's not too long and not too short, offering the perfect coverage, whether you're hiking or training for a marathon. 
All of the athletic skorts reviewed above are of very high quality and won't disappoint you. You can buy more than one brand and wear them to suit your matching tops, or you could go with one brand as well. 
The features of all the skorts are nearly the same, so is the material they are made of. Some skorts have pockets while others don't. All are similarly priced as well. 
This makes it a difficult choice to select anyone one skort over the other. All have received great customer reviews. If you are looking for skorts a little shorter in length, you can go for BALEAF. 
The skort by HEAD comes in a variety of trends and colors. 
EAST HONG skorts are slightly longer and have more variety of choices and a pleated skirt. 
EKOUAER skorts are the most fashionable in terms of color as well as design pattern choices. Finally, BLEVONH skorts have great pricing.
[xyz-ihs snippet="Blog-Footer"]