[xyz-ihs snippet="Blog-Header"]
Some of the biggest advantages of wearing plus size compression leggings are that it helps repair your muscles and aids your blood flow.
Plus Sized Compression Leggings can reduce post-workout soreness and muscle fatigue. It can reduce the chance of injury and enhance recovery in case you do get injured.
Interested in buying one? Let's check the best ones on the market.
Best Plus Size Compression Leggings Reviews
IUGA High Waist Leggings Review

IUGA is a major lifestyle brand that combines comfort, performance, and style. This premium quality activewear is popular among fitness enthusiasts as well as those who participate in everyday running because it is accessible and affordable. IUGA operates in between style and purpose, IUGA's goal is to please the exercising athlete as well as the everyday consumer who wants stylish products.
These yoga leggings are developed by yogis. They have a wide waistband having a high-rise with the feature of tummy control and also have a hidden pocket; the yoga leggings are the best choice for active women. This yoga pant is made of extremely soft material; these workout leggings are very comfortable, featuring a four-way stretch fabric that helps in both support as well as compression. It is 0.7" high and 14"wide.
These leggings also have a gusset crotch to promote free movement and also interlock seams to decrease rubbing and chafing; these leggings are the perfect yoga pants. It has an ultra-stretch fit, which is non-see-through, having enough thickness that conforms and slim with each pose, contour, and movement. It also features two side pockets and a waistband inner pocket, which is hidden to keep your cell phones, keys, or any essentials.
All IUGA yoga pants bought by you come with a 30-day, money-back warranty and can easily be returned with no hassles.
Homma High Waist Tummy Compression Slimming Leggings Review

Homma premium thick high waist Tummy compression slimming leggings is a creative as well as an innovative product that is best suited for you. It is made out of the exclusive Homma Firm-Control fabric, which is 88% nylon and 12% spandex.
These compression slimming leggings are 0.7" high and 14" wide. This product helps you look slimmer as well as not compromising on your comfort. It has a high-rise waistband having a Thick Stay-Put for body contouring.
The leggings are quick-drying, stretch to fit, moisture-wicking, and extremely breathable. They are seamless, tight fit, chafe-free, and hade strong compression. They also have a stretch and recovery, which is four-way for comfort compression, performance, and shape.
This active slimming pant is designed to keep you moving with ease and seamlessly while staying lightweight, breathable, and cool. It provides you with a high waist hug comfort. It can be worn in the gym or studio or anywhere else.
These slimming leggings help you to slim up and show you that it performs extremely efficiently. These seamless leggings are built with form-flattering stretch fabric plus targeted venting and fast wicking for dry, smooth, and light performance.
CompressionZ High Waisted Women's Leggings Review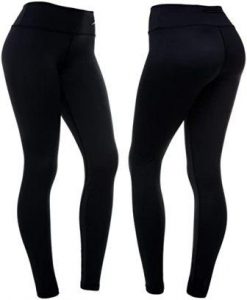 CompressionZ high waisted leggings are comfortable and cozy compression leggings. These women's tights are excellent for cycling, gym, working out, yoga, running, or casual wear. They provide comfortable support in cool or warm weather.
They are running tights that have supportive characteristics. These lady's compression pants are made from a breathable, sweat-wicking fabric having a 4-way stretch for maximum comfort and mobility. The chafe-free sewing guarantees all-day comfort.
The leggings have body slimming features of compression. You will look and feel great in these yoga leggings, which deliver firm pressure and comfortable compression to your quads, hamstrings, and calves. Now you can experience great muscle support while exercising.
These yoga pants are made from non-see-through material. This premium fabric won't be seen through while you squat, stretch, or bend when exercising. These compression tights let you exercise in confidence! The leggings remain in good condition and retain their fit even after many washes.
This product guarantees trusted quality and satisfaction. These yoga tights for females are manufactured using superior quality. If you want a more cozy but comfortable fit, please consider ordering a size up.
[xyz-ihs snippet="Blog-Middle"]
Colorfulkoala Women's Leggings Review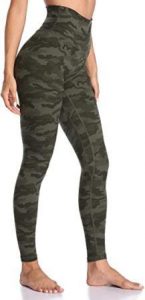 The Colorfulkoala women's high waisted pattern leggings full-length yoga pants are an innovative product. The yoga pants are made of 75% polyester and 25% spandex materials. It is designed to flatten your figure as well as complement your curves. It is produced to feel like a gentle hug to your body as its compression is extremely soft.
The Colorfulkoala full-length yoga pant is detailed to have a unique pattern. It also features a waistband pocket that is hidden. The inseam for this full-length yoga pant is approximately around 28″. It has solid colors.
This yoga pants are an ideal creation for yoga enthusiasts. It is very stylish too. It also can be worn when you are going to the gym or any fitness training, running, jogging, etc. It is very comfortable and can also be used outdoors when shopping too.
The colorfulkoala leggings provide comfort, support, and superior softness so you can feel confident and look your best in your every movement. These leggings for women come in a variety of color choices. These leggings fit snuggly against the skin and don't pinch, bunch, or pull hence letting you have a comfortable yoga workout.
Conclusion
Compression leggings are one of the new types of athletic gear that is available on the market today. The advantage of using compression leggings over normal leggings is that though, they are slightly more expensive than normal ones, they more than justify the price.
When you plan to run and you are overweight, there is a high risk of a faster rate of muscle fatigue than normal. In addition to that, due to your weight, the flow of blood is lower in a plus sized person as compared to a slim person. Compression leggings help you to improve and increase the flow of blood in your body.
Along with wearing in during your run, you can also wear your compression leggings for a long period of time. It helps to strengthen your muscles.
Along with great running shoes, socks, shorts and other gear, having comfortable and high-quality compression leggings helps you to enjoy the time that you spend running. There are many excellent benefits to using compression leggings.
Even though you will buy your plus size compression leggings for your running schedule, you can easily use it for other things like running errands, cycling, commuting, etc.
You can wear it and jog or run to work and then have a quick shower and change into work clothes.
[xyz-ihs snippet="Blog-Footer"]