[xyz-ihs snippet="Blog-Header"]
When you are trying to lose weight, running is one of the best and easiest that you can get started with. However, if you are plus-sized, you need to be careful when it comes to choosing the best running shoes for overweight men. 
There are a few things you need to keep in mind when you buy running shoes and you are overweight. The first is the strength of the shoes. The next comes comfort and durability. 
Best Running Shoes for Overweight Men Reviews
Let's check the best running shoes for overweight men on the market today.
Brooks Men's Adrenaline Running Shoes Review
The Brooks Men's Adrenaline Running Shoes are made of synthetic material and mesh. The shoe size is available in narrow width, medium width, wide width, and extra wide width.
They are ideal for runners looking for support at all arches. The support system lays its focus beyond the feet. It emphases on the part of a runner's body, which is most prone to injury, i.e., the knees.
Guide Rails help you to keep on moving in a comfortable manner by keeping in check any excess movement.
The shoes, which are soft, as well as protective, provide just the right amount of cushioning as you take each step. You will seem to float through your everyday activities.
The Brooks Men's Adrenaline shoes have engineered mesh, which, together with the Fit Print upper, provides the structure a perfect fit.
The medial-post is absent in the inner mid-sole and is much softer than the outer side.
The toe-box has sufficient room as does the forefoot. The forefoot of blown rubber facilitates good traction and aids in the cushioning also. 
The skillfully designed mesh provides for a smooth and breathable interior. The tongue is made of a soft synthetic suede flap which feels soft on the foot.
The outer side Guide Rail's foam is softer than that of the arch side, which is noticeable only when you touch it. 
The sensory experience during gait is that the foot rolls to the inside. This is overall the best running shoes for overweight men.
Nike's Revolution 4 Running Shoes for Men Review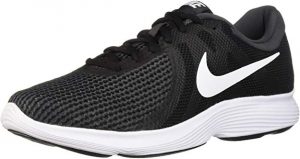 Lacing up these shoes for the first time will make it clear to you that they're good for running. They are low priced shoes in the Nike range, but make no mistake they do not sacrifice on running comfort.
The super foam used in these shoes is guaranteed to give a durable run on the road, track, treadmill. There will be no issue of bottoming out or wearing out prematurely.
Multi-Surface traction is provided with the presence of Molded Pods. The Pods tend to flatten on impact and thereafter, revert back to normal, creating a sound cushioning effect.
The midsole is made of soft foam, which delivers a lightweight, comfortable cushioning. The vamp and toe tip have Underlays that effectively provide for a very comfortable jog.
The design and styling of these running shoes have been kept to a minimum. The full rubber outsole provides effective and lasting traction and cushioning for running longer.
The Nike's Revolution 4 Running Shoe is designed to keep it lightweight yet durable. For maximum breathability, the upper is made of a one-layer mesh.
The Nike's Revolution 4 Running Shoes are ideal for mid-distance runners who would want an inexpensive pair of shoes for a quick run. You would have no issues lacing them up for 4-12 mile runs. This is the best running shoes for overweight men in terms of durability.
ASICS Men's Running Shoe Gel-Venture 6 Review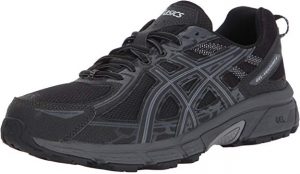 Asics Gel-Venture 6 is a great pair of workout shoes. It features all the necessary characteristics of the perfect trail shoe. They have true style, are comfortable, versatile, and are affordable. They are available in various colors and designs.
So go out and explore in the GEL-Venture 6 shoes, which are specially created to tackle rough surfaces. They are provided with an outsole that is trail-specific, and the high-abrasion rubber inspires confidence for traction. As you pound along your chosen path, the rear foot cushioning helps you to stay comfortable.
The shoe is rugged, ensuring super performance on various surfaces. Runners having foot problems have the option to insert orthotics as the shoes are provided with removable sock liner.
For durability and toughness, the sole is made of hard rubber. There is adequate cushioning within to provide ample comfort. It hardly matters what type of surface you are working out on; you will be comfortable either way.
Gel-Venture 6 is designed, keeping in mind the safety of the wearer from external elements. So you can rest assured that your foot will not suffer injuries from sticks, stones, etc. This pair is manufactured from lightweight synthetic material and stylishly designed.
The Asics Gel-Venture 6 features a sock liner that keeps the shoe free of moisture, provides ample cushioning, and also sports antibacterial properties. The fabric used in the manufacture is water-resistant and hence are fit for running in the rain.
[xyz-ihs snippet="Blog-Middle"]
ASICS Men's Gel Running Shoe Review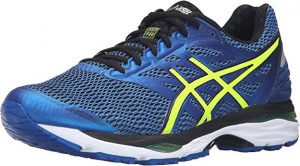 The ASICS Men's Gel Running Shoes are made from cent percent imported synthetic material. They fall in the category of slightly heavier shoes in the neutral ultra-cushioned shoes. 
They are sort of tallish looking shoes and certainly not sleek like a low-drop minimalist shoe.
The midsole provides a great combination of cushioning and bounce-back properties with lightweight and super durability. 
It has quite an attractive white color, which differs from the bright/neon colors in vogue now. That said, you need to wash it from time to time so that it looks clean.
Its rearfoot and forefoot cushioning reduce as you go about your activities of walking, running, or working out.
At the cost, these are the best value for a combination of support & cushion. The shoe has both power and cushioning, giving your feet super spring and bounce.
The Asics Gel-Venture 6 are splendid shoes with maximum cushioning for your training and long runs. Ample cushioning at the back and front ensures that every landing is soft & shock free.
For increased efficiency of motion, it features an upright flex groove, which decouples the tooling alongside the line of progression.
Saucony Cohesion 10 Men's Running Shoe Review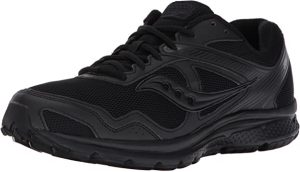 You would do well to choose Cohesion 10 as your regular training shoes. The advanced technology of Grid for sole-based stability and cushioning system arms athletes of all types with an added advantage.
The Saucony Cohesion 10 is some of the lightest and comfortable shoes you will ever see. They fit snugly without being narrow and tight at the sides. 
You will hardly realize that you're wearing them, being so light, yet there's the necessary support. You'll have no problems with the laces either, once secured.
The arch support is great. They are ideal for middle-aged people for walking, going shopping, or running around with the kids. You can also wear them to the beach or pool. You will love them as your everyday pair of sneakers.
The shoe with an injection-molded midsole is designed for comfort & efficiency and is ideal for neutral runners.
The upper is well designed with traditional overlays stitched on an air mesh for support and breathability. No modern welded or woven features are provided so as to keep the price down. The Saucony Cohesion 10 is sturdy, flexible, comfortable, and a great addition to your running collection.
It has great heel design features with super flex grooves, and an area cored out for effective impact resistance. Its grid system provides stable cushioning. The shoe sports a plush tongue and collar.
Saucony ISO 2 Redeemer Men's Running Shoe Review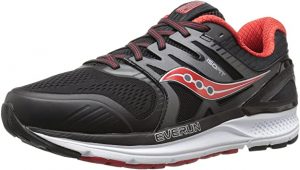 The Redeemer ISO 2 is a fusion of uncompromising support and incredible cushioning. Their insole is well cushioned to provide a plush, comfortable, and durable feeling underfoot. An adaptive fit is delivered by a flexible engineered mesh upper, which secures the foot snugly.
The Redeemer ISO 2 shoes provide super support and prevent mild rotation movement of the foot, ensuring its stability whilst walking or running. The shoe's sturdy sole holds up quite well under the abrasive wear of the pavement.
Runners who have flat feet or who need to use custom orthotics in their shoes will find these shoes perfect.
The upper feels sophisticated, snug, and comfortable. You will notice that the inside of the shoe is devoid of any seams. The Redeemer ISO 2 provides excellent stability & motion control during a run. 
The cushioning on the midsole and the sturdy medial post absorb shock effectively. A liberal layer on the underfoot is great and provides good stability. The drop-in is remarkable.
Skechers Afterburn Memory-Foam Lace-up Sneakers for Men Review
As far as sneakers go, these are simply incredible. Skechers Men's Sneaker is a training sneaker for sports made of leather, synthetic, and mesh fabric upper. 
The collar is well padded, and so is the tongue. The insole is made of Memory Foam, and the outsole is made of high-traction rubber.
The Skechers Men's Sneaker has an extra built-in heel to enhance the wearer's height. The sneakers have a snug fit, are most comfortable, breathable, and even on low maintenance remain clean and neat looking.
The inside is padded with memory foam making your feet feel very comfortable. Once you start wearing and trying them out for your activities, they will be your go-to shoes from then on.
The sneakers feature a mesh tongue with cushioning, stylish padded collar, top eyelets of metal, and laces. The laces are of just the right length without being too long and stay secured when tied, a plus factor. 
The strong supporting arch is amazing and helps provide good balance and stability.
The Skechers Men's Sneakers are sturdy casuals for working out in the gym. If you need a lightweight version of these sneakers, you need to shell out a little extra bread.
New Balance Men's 990v4 Review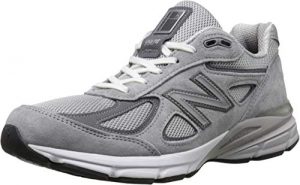 The New Balance Men's 990v4 are the shoes to pick if you are keen to take up some serious running. They are very good shoes for working out and for runners and for those who need to and for long periods.
The New Balance Men's 990v4 shoes are available in a wide range of sizes and hence provide a good option for all ages. Although made for running, these shoes have the versatility for being used for casual wear. 
Their fit is snug, although they might feel a little awkward for their bulky design. The super rubber outsole offers incredible stability even for lateral movement. It is also quite durable and hence sure to last you for a few seasons too. 
The midsole is quite thick, and paired with the outsole's design offers excellent stability. This is why the shoes have gained popularity with the elderly who otherwise experience some stability issues.
In addition, they provide excellent lateral support meaning that you will be protected from specific injuries. The thick upper can also be considered as an attractive feature for improved stability.
For better breathability, the leather is only an overlay to the mesh. Considering their quite thick padding, it is recommended that the socks to be worn with these shoes are thin.
The New Balance Men's 990v4 shoes feature impressive traction, which is an ideal asset when you need effective traction on wet surfaces.
Conclusion
Choosing the right shoe will help you
improve your performance
when you run. This will lead you to reduce weight and get in shape faster. We hope you enjoyed reading our reviews on the best running shoes for overweight men. You can also check the
best running shoes for overweight women
for your better half. Happy Running!
[xyz-ihs snippet="Blog-Footer"]