[xyz-ihs snippet="Blog-Header"]
What is the first thing that comes to your mind when you think about taking up running as your regular workout activity? – Type of running to start with, place best suited, and shoes. 
Most of us ignore our workout clothes. The kind of t-shirt, vest, shorts or skirts you choose has a significant impact on the activity we choose.
The clothes should be comfortable with a good fit; it should give us ease of movement and handle perspiration effectively. 
Well designed and fitted workout clothes makes you feel good and keeps you dry, and you workout without worries.
Best Women's Plus-size Running Shorts Reviews
Let's check the best women's plus-size running shorts on the market today.
Joe's USA Ladies USA Running Shorts Review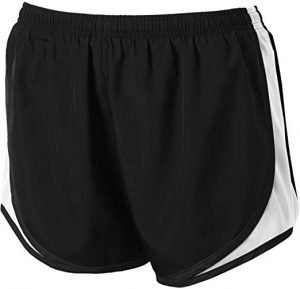 Joe's ladies running shorts is ideal for women. The sizes available are from X-Small to 4XL. You have 14 different colors to choose from. The wide range of colors appeals to everyone's taste. 
The shorts have a single design with contract color stripes on both sides. The Joe's ladies shorts looks super stylish and is comfortable too.
The shorts are made of 100% polyester, which gives it a smooth feel. The high-quality polyester wicks moisture keeping you dry while you sweat it out. 
The side panels are made of Tricot, which provides more breathability. It has a built-in brief that is made of polyester crepe jersey fabric. 
The fabric is durable and maintains its shape even after daily usage. It is easy to wash and maintain.
As the brief is made of polyester material, it dries quickly after wash. You need not tumble dry the shorts. The fit and comfort is excellent. 
The waistband is made of elastic and has a drawstring closure for better adjustment. The inseam is of 3.25 inches. The shorts give you an overall snug fit and looks very feminine.
Baleaf Women's High Waist Running Shorts for Plus Size Women Review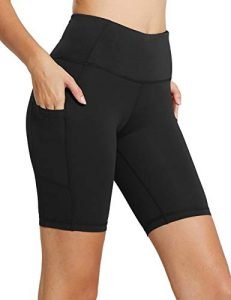 If you like high waist well-fitted shorts, Baleaf's shorts are just right for you. These are available in 1XL, 2XL, and 3XL sizes. The measurements for 3XL are waist 37.5 – 40 inches and Hips 47.5 – 50 inches. 
The variety of available colors is impressive. The shorts guarantees good fit and comfortable fabric. The materials used are 87% polyester and 13% of spandex.
The fabric wicks moisture keeping you dry. It is a breathable fabric and hence comfortable. The material is thick, and it doesn't ride up the legs. The shorts are ergonomically designed. Therefore it gives maximum coverage so that you can bend and stretch without worries. 
The waistband is high-rise that offers you an excellent fit and complete support for the stomach. The gusseted crotch supports freedom of movement and your thighs don't rub or chafe. The shorts have a long inseam.
There are two side pockets and one pocket on the inner side of the waistband. You can easily keep your mobile while you run. 
You can wear it as it is or pair it up with loose regular shorts. It ups your style quotient.
[xyz-ihs snippet="Blog-Middle"]
Just My Size Plus Size Women's Running Shorts Review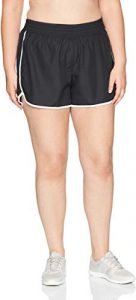 As the name suggests, you will find the right size, and it fits superbly well for a plus size women. Unlike other shorts, it is not an extended size version of shorts for plus size women. 
Just my Size shorts are specifically designed for plus size women. It is loose and doesn't cling to the body, gives you ample space for movement yet it is cute.
The fabric is 100% imported polyester. The material allows your skin to breathe and deals with moisture effectively. The shorts come with mesh side panels for additional breathability. 
It is great for running as it is loose and wicks moisture efficiently. It has four inches of inseam. The waistband is elastic with drawstring. It allows you to adjust the waist size as per your requirement. 
You will find the built-in shorts made of crepe and with the right size the shorts doesn't ride up your leg.
The 5XL size measurements are waist 52.5 – 55 inches and hips 59 – 61 inches. You can easily machine wash the shorts, and it retains the shape. 
You will find a hidden pocket on the waistband for you to keep your keys while running. It comes in five colors with white lining on the side and hem, making it look attractive.
Conclusion
You never have to worry about shorts for running, even if you are a proud plus-size woman, you have ample choices to select the best running shorts for you. 
The material used in the fabric of all the above shorts quickly wicks moisture. So it is comfortable as it keeps you dry and fresh.
If you are looking for regular fit and loose shorts go for Joe's ladies shorts or Just my size shorts. These shorts give you a fantastic fit and look feminine. 
You can opt for Baleaf shorts if you are looking for body-hugging shorts. You can also check our Best Plus-size Running Pants Reviews.
You have ample colors choices in all three options. The elastic waistband with drawstring ensures it gives you a good fit at the waist. 
All the shorts are durable, provide complete coverage, and is easy to maintain. 
With side and waist pockets, you can easily be hands-free while running. Look good, feel good in these shorts, and enjoy your run.
[xyz-ihs snippet="Blog-Footer"]