Most outdoor hiking jackets are designed purely for a particular activity. Most of it being rock/mountain climbing, cycling, or snow sports. These jackets will mostly have distinct components that will benefit you throughout.
When you choose a hiking jacket, you need to focus on functionality, not fashion. You will not care how you look if you feel miserable. Irrespective of what it looks like, you will need something that fits your size right and supports the level of your intensity.
All you need to think about is comfort, weight, durability, and value. Decide on your preferences and your budget before you pick the right one that is suitable.
Best Plus Size Hiking Jacket Reviews
Let's check the best plus size hiking jackets on the market today. 
LDMB Plus Size Sleeveless Jacket Review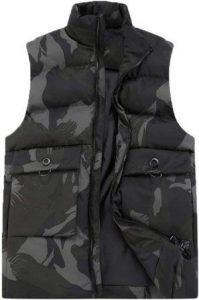 This fashionable sleeveless jacket from LDMB is made from 100% polyester fiber. It is designed to keep you warm and comfortable in acute weather conditions. It is not easy to deform and stays in shape even after wash.
It features a stand-up collar that can be zipped all the way up. The jacket is also windproof, which is very useful for protecting you from the wind and keeping you warm. 
It is extremely lightweight and smooth to touch. It also features two large handy pockets in the front that can be flipped to open and keep closed.
This classic down vest is not only stylish but practical too. It can be worn casually or as a necessity during outdoor activities. Whether your hiking, fishing, etc., the lightweight vest allows you to be more comfortable and gives you more room to move your arms around freely.
You can refer to the size chart to pick the right size for you. The largest size would be 8XL which measures 82cm in length and 68cm from the waist. The size ranges from L to 8XL, manufactured mainly for plus-size people. 
The jacket comes in 2 color and pattern choices. One is a solid black, and 1 being an olive green camouflage. It is unisex and is suitable for both men and women. It is perfect for layering up over tees, sweaters to keep you extra warm.
MODOQO Men Plus Hooded Jacket Review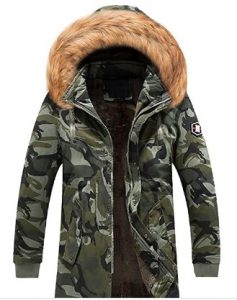 This MODOQO stylish camouflage cool design trench coat comes with an attached fur hood. It's a thick cotton blend twill material with strong zipper closure. It can be worn fashionably anywhere and also for your outdoor activities like hiking.
The high-quality thick material jacket is lined with fleece inside, which intends to keep you warm. It has a handy button-down flap pocket on each side in the front. The sleeves are ribbed at the cuff to help secure warmth when bundling up.
It is a well-fitted jacket and with a fur-lined hood. The hood can be detached by unzipping it easily when not required. It is perfect during the autumn-winter period and can be used well with layering up.
The jacket is not heavy as it may only seem that way. It is comfortable to wear and quite easy to wash and maintain as long as you follow the wash care instructions. The zipper fastens also comes with a button-down placket.
The size chart available helps you pick the right size that is suitable for you. The sizes range from M-4XL. The last size, i.e., 4XL, measures 84cm in length and 124cm from the bust region. The jacket is ideal for hiking and winter outdoor activities. To maintain the product needs to be hand-washed only.
UDAREIT Windbreaker Jacket Review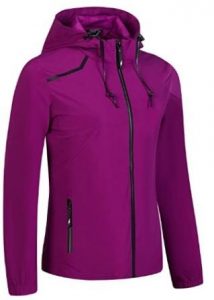 The Udareit women's jacket is an extremely lightweight windbreaker jacket. It has a large hood with an adjustable string attached that would help prevent your head from getting wet. The material is 100% polyester with a zipper closure that zips all the way to the top.
The jacket has two waterproof zippered secured pockets on each side and one on the inside as well. The cuffs of the jacket are elasticated. This helps in securing the wind and keeping you warm. The windbreaker jacket helps in protecting you from the harsh winds and keeps you warm.
It is not waterproof and cannot resist heavy rains, but it is water repellent and can withhold and prevent you from getting wet. It does not have any fleece lining present but has a breathable mesh liner. The liner is skin-friendly and is quick to dry.
The Udareit jacket highly recommends it to be hand-washed only by following the wash care instructions. The sizes available are from Small to 4XL. The 4XL measuring to 32 inches in length and 55 inches in the chest.
The zipper is tested to be of good quality and cannot be easily broken. The material is soft and slightly stretchable, making it roomy and comfortable.
This jacket is ideal for outdoor activities like hiking, cycling, camping, etc. It is available in 2 colors, which are black and purple.
HGWXX7 Women's Hiking Raincoat Review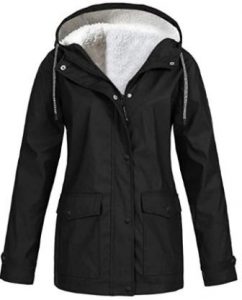 This HGWXX7 Women's jacket is made of high-quality polyester fabric. The strong stitching makes the garment durable and ensures to be long-lasting. This trench coat is well-fitted and available in a range of bright and vibrant solid colors as well.
The jacket is a waterproof raincoat which makes it perfect for hiking, climbing, riding, cycling, camping, traveling, etc. It is quick to dry and is also stain resistant. It is long and has a hood attached which will help shield and protect you from the cold weather and harsh winds.
The jacket has two large button-down flip pockets on each side. It has a soft fleece fur lining to keep you warm and cozy. This makes this garment perfect for the fall and winter seasons. It can be worn casually and for outdoor activities as well since it serves the purpose.
This comfortable jacket is easy to maintain and wash as long as you follow the wash care label for instructions. The jacket's zip fastens all the way to the top and can be buttoned down through as well. The hood has adjustable drawstrings that you can tighten up and prevent your head from getting wet.
The women's jacket size ranges from small to 5XL. The largest, being 5XL, would measure 59 inches in bust and 31 inches in length. The high-quality fabric is skin-friendly and breathable.
Women's Plus Size Raincoat Jacket Review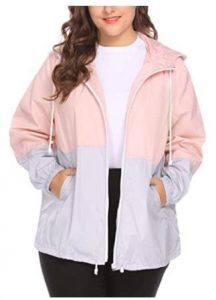 This women's jacket from In'Voland is a very comfortable and lightweight jacket. It is available in 20 vibrant and pastel color options. The color code on the jacket is designed in an attractive two-tone manner.
The jacket is a windbreaker that is elasticized at the cuffs securing warmth and preventing you from harsh winds. It is water-resistant and can protect you from getting wet from light rains and soft snow. It has the capability to quickly dry up and is also stain resistant.
The fabric type is 95% polyester and 5% spandex which is slightly elasticized, making it more comfortable to wear, giving ample free body move freely. The hood and the bottom hemline of the jacket have an adjustable drawstring that can be tightened or loosened as preferred.
The zipper fastens the jacket all the way to the top collar. Two slit pockets on each side of the jacket are placed. This makes it handy and useful to tuck away your hands or to carry in small objects like a phone, keys, etc.
The garment is designed for plus size only. The size chart available will help you choose the right size suitable for you. The product size ranges from L being the smallest and 8XL being the largest.
This jacket can be worn on a number of occasions casually and for outdoor activities. It is ideal for hiking, climbing, camping, cycling, etc.
Conclusion
It is not necessarily all of us fit into the standard – small, medium, and large category of sizes. Generally, all sizes that are larger than 12 are considered to be plus-size in the outdoor apparel industry. You can also check our article on the best hiking pants. 
People that are plus size wanting to hike or do other outdoor activities face a significant barrier to find the right size of hiking gear.
You don't want to be wasting money on a jacket that will not aid you well enough in the wilderness. You will need to keep in mind the following factors in order to pick the right hiking jacket for you.
Lightweight
Comfortable
Breathable
Adjustability and
Material
Finding the best one that is suitable for you will be more of a personal choice. You will most probably own various types over time. All you will need to do is keep in check the basic knowledge of durability and functionality.