[xyz-ihs snippet="Blog-Header"]
When the sun is out and you feel like running, it makes sense to let go of your tights and pick up the best running shorts. However, you need to make sure that your running shorts don't slip down or ride up. Your running shorts should be breathable, shouldn't restrict you and should be made of sweat absorbing material.
Let's check the best plus size running shorts in the market that don't ride up.
Best Plus Size Running Shorts That Don't Ride Up Reviews
Nike Women's Dri-fit Tempo Track 3.5 Short Review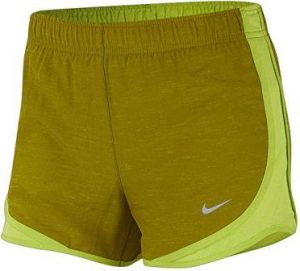 Nike is one of the biggest brands in the world of sports clothing. It has great products for almost all your needs and manufactures a wide range of innovative clothing merchandise for fitness-related activities to keep you healthy, positive, and moving forward.
The Nike Dri-Fit is a revolutionary fabric technology specially designed for excellent moisture management in humid and hot conditions. Discover that perfect rhythm that lets you traverse far for your following run. The regular fit is improved, but not at all sloppy, perfectly fitting for any activity. The Dri-FIT™ technology takes the sweat outward, away from the body to a place where it can evaporate.
This great product, the Nike Dri-fit track short for women, has a Schnürung closure. This makes it very stylish to look at.
It has an elastic waistband that is adjustable that ensures the user gets a comfortable and perfect fit. The elastic waistband features an interior drawstring that provides a secure and comfortable fit.
It comes with built-in briefs providing comfort and support when exercising. It also has an internal key pocket, which is ideal for small items and keys. These built-in briefs offer comfort and support. There is an interior stash compartment at the right rear.
The Nike Dri-fit also feature mesh panels situated at the side-seams for comfort and breathability when running. The mesh panels intensify the process of cooling and ventilation.
Soffe Men's Ranger Panty Running Shorts Review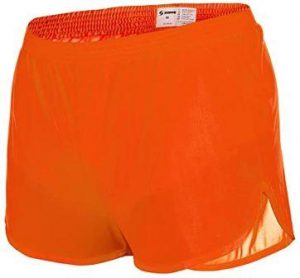 As a company, Soffe began in 1946; at this time, it first started as a supplier to military exchanges and bookstores for colleges, and since then, it not looked back. Later, Soffe expanded its focus to the manufacturing of activewear for athletes and all types of exercise. As of now, Soffe has placed itself as a market leader in an American lifestyle brand for juniors, children, and men in the range of activewear clothing.
The Soffe men's products are still deeply rooted in styling for the military. This line is durable, dependable, and tough and is designed to represent America's primary athlete: the soldier.
This creation by Soffe is highly esteemed by the military; the Ranger Panty is crafted out of fabric made of soft tricot and is loose-fitting. It is designed in such a way as to hold up to rigorous workouts or that dreaded Silkie Hike. These shorts feature a 2.5″ inseam providing the coziest built-in brief. These shorts can be worn in the gym, on a hike, during running, during physical training, etc. It comes in multiple prints, graphics, and colors to choose from.
It is manufactured using a very cozy brief liner and a secure inner pocket to keep any ID or keys. The Ranger Panty features a 2.5″ side vents and inseam on both legs for mobility and improved range of motion. It has a waistband that is self-covered, which won't chafe or dig in.
Hanes Sport Men's Performance Run Shorts Review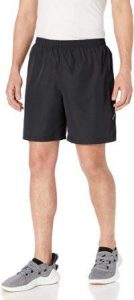 Hanes, as a brand, is synonymous with having a reputation for manufacturing premium quality products that are not only stylish but also durable at the same time. This product is of the Hanes Sport range of clothing, which offers performance gear that is comfortable as well at the same time. Your comfort is one of the main criteria that Hanes takes into consideration while producing their sports-related clothing. This is because we believe the more comfortable you are in your clothing, the better you will be able to perform.
In this product, the Hanes performance running shorts innovative technologies are used to give you the right looks that fit your sport and your style.
This is an extremely lightweight knit short primarily for running, giving you superior performance, and having features that assist you in getting the best results for every mile. It features Cool DRI® technology that helps to dry up the inner brief quickly hence offering maximum comfort. The inner brief features Cool Comfort™, a fabric that instantly wicks away perspiration to keep you comfortable and cooler.
It has a drawstring waist made of elastic. It consists of a convenient zipper pocket on the inside to secure your keys. There are reflective inserts on the sides to promote night visibility. It has a 7″ inseam.
[xyz-ihs snippet="Blog-Middle"]
Lixada Men's Running Shorts Review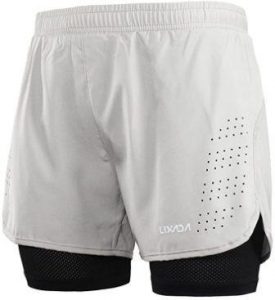 Lixada is a brand that focuses on products that assist people who like to be engaged in activities such as fishing, camping, cycling, running, swimming, skiing, or any other outdoor leisure sport. It is run by a highly professional team. As an organization, Lixada is dedicated to supplying premium quality merchandise for you. We also keep improving the products made by us based on your feedback. We design our products to assist you in enjoying sports with greater convenience, style, and comfort.
The Lixada running shorts for men are made of premium quality breathable polyester fabric; it features a double reinforced method of stitching to guarantee the durability as well as to give you the best performance. It has a long built-in mesh liner that wicks moisture and also dries instantly, giving you optimal comfort.  It features a long lining that is comfortable and smooth. You won't suffer from any chafe related issues while using this product.
It has a premium quality zippered pocket at the back for safe storing of small necessities while running, like credit cards, keys, mp3 player, and more. 
It also features a reflective logo of the LIXADA brand for safety and visibility in low light, which is much needed while running in the night. The waistband is made using elastic and has an internal drawstring that is adjustable, which assists in giving you a comfortable as well as a customized fit.  
It has mesh vents for air to circulate on both sides for improved breathability, which keeps you fresh and cool even in hot weather.
MJ SoffeSoffe Short Review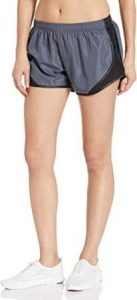 As an enterprise Soffe began in 1946, at that time, it first started as a provider to military exchanges and bookstores for colleges, and since then it has not looked back. Later, Soffe extended its focus to producing activewear majorly for athletes and all types of exercise. As of now, Soffeis positioned as a market leader in an American lifestyle brand for juniors, children, and men in the range of activewear clothing.
The Juniors line by Soffe continues to be an inspiration in the cheerleading roots of the brand – a sports activity which is defined by just what a group comprising of women can achieve when they get to work together –It has also expanded its ideology to embrace manufacturing of the must-have apparel for running, yoga, dance and more.
Inspired by the standard running profile, the Juniors Team Shorty Short has an unsurpassed preference in its field. It is produced from moisture-wicking fabric that is lightweight; this short has contrast side mesh inserts and a microfiber yoke for cool comfort and breathability. It also has a drawstring waistband, which is of good quality elastic and refined with a 3.25″ inseam, and it also houses a built-in brief. This short also offers coverage having a protected, low rise fitting.
Starter Men's 3" Running Shorts Review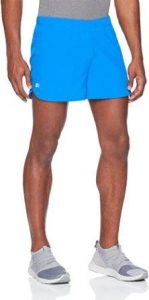 Since 1971, this exclusive brand, Starter has been manufacturing iconic sports gear for athletes and sports fans. Now, Starter is producing revolutionary products that are out of this world.  An Amazon-exclusive set of sportswear clothing range of sweatpants, t-shirts, and sweatshirts has been released, designed for both the player as well as the fans and the starter present in all of us. There is a complete sports range for kids, women, and men. Starter also manufactures state-of-the-art soft-as-ever hoodies, leggings, performance tops, and more. From the playing field right up to the very stands, all dream of being a Starter.
The Starter running short for men features a 3″ inseam that keeps you moving sporting a lightweight fabric, it also has a brief liner attached to it, and also a curved hem to enable you to have a full range of motion as you wear it, especially for sport.
The fabric used is 91% polyester, and the remaining 9% is of spandex. It can be easily washed in a washing machine. The starter tag doubles as an attractive sticker. The Starter running short for men gives you maximum flexibility and support. This innovative product is made with non-shrink fabric and also houses a back pocket that is zipped in which we can store small belongings. This is a true men's activewear.
As you can see, there are many excellent plus size running shorts on the market that don't ride up. 
If you are looking for the overall best shorts that don't ride up for women then go for the Nike Women's Dri-fit Tempo Shorts. The best one for men is the Soffe Men's Ranger Running Shorts. If you want a great low rise shorts then MJ SoffeSoffe Shorts is a great buy. Happy and comfortable running!!
[xyz-ihs snippet="Blog-Footer"]